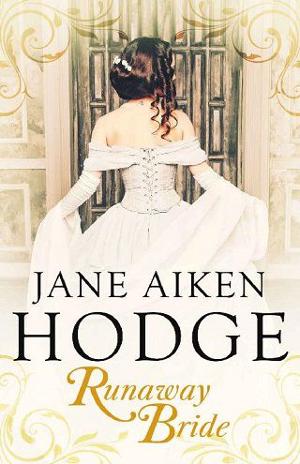 'An heiress, and a damned bad hat of an uncle. Look after her, George.'
And so George Ferris makes a vow to a dying soldier to wed his sister. Honour-bound, George resolves to keep his promise.
But Jennifer Purchas has other ideas. Desperate to get away from the money-hungry clutches of her Uncle Gurning, Jennifer refuses to marry a man she has never met. Determined to start her life anew, she runs away and assumes a new identity.
Acting as a penniless governess, Jennifer tries to keep her status as a rebel heiress under wraps. But as mistaken identities and misunderstandings abound, fate seems to have a way of intervening. Will Jennifer be able to live the life she wishes or will her life be decided for her?
*Runaway Bride was first published in 1976.
Book Details
File Namerunaway-bride-by-jane-aiken-hodge.epub
Original TitleRunaway Bride
Creator

Jane Aiken Hodge

Languageen
IdentifierMOBI-ASIN:B07L972WHJ
Publisher

Agora Books

Date2019-01-09T16:00:00+00:00
File Size430.417 KB
Table of Content
1. Title Page
2. About the Author
3. Also By Jane Aiken Hodge
4. Runaway Bride – Jane Aiken Hodge

Copyright
Chapter 1
Chapter 2
Chapter 3
Chapter 4
Chapter 5
Chapter 6
Chapter 7
Chapter 8
Chapter 9
Chapter 10
Chapter 11
Chapter 12
Chapter 13
Chapter 14
Chapter 15
Chapter 16
Chapter 17
Chapter 18

5. Bride of Dreams – Jane Aiken Hodge
6. Love Historical Fiction?