Protecting Sasha by Natasha L. Black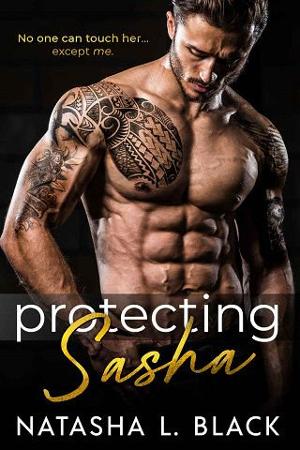 The Russian mob is after my best friend's sis and it's up to me to protect her.
Marrying Sasha is the quickest way to bring her to the US.
She'll be my fake wife and I'll do her brother a solid.
Except, the night I meet Sasha is the night that changes everything.
She's unlike any woman I know…
Her exotic beauty and delicious curves make me want to share not only my last name but also my bed with her.
I need to taste her, touch her and make her mine.
When the mob comes after us, I have a real reason to teach them a lesson.
They have no idea who the h*ll they're messing with.
Our marriage may be fake, but my commitment to keep Sasha safe couldn't be more real.
File Name:protecting-sasha-by-natasha-l-black.epub
Original Title:Protecting Sasha
Creator:

Black, Natasha L.

Language:en
Identifier:2396622182
Date:2019-05-23
File Size:293.956 KB
Table of Content
1. Title Page
2. Copyright
3. Contents
4. Introduction
5. Chapter 1
6. Chapter 2
7. Chapter 3
8. Chapter 4
9. Chapter 5
10. Chapter 6
11. Chapter 7
12. Chapter 8
13. Chapter 9
14. Chapter 10
15. Chapter 11
16. Chapter 12
17. Chapter 13
18. Chapter 14
19. Chapter 15
20. Chapter 16
21. Chapter 17
22. Chapter 18
23. Chapter 19
24. Chapter 20
25. Chapter 21
26. Chapter 22
27. Chapter 23
28. Chapter 24
29. Chapter 25
30. Chapter 26
31. Chapter 27
32. Chapter 28
33. Chapter 29
34. Chapter 30
35. Chapter 31
36. Chapter 32
37. Chapter 33
38. Chapter 34
39. Chapter 35
40. Chapter 36
41. Chapter 37
42. Chapter 38
43. Chapter 39
44. Chapter 40
45. Chapter 41
46. Chapter 42
47. Chapter 43
48. Chapter 44
49. Chapter 45
50. Chapter 46
51. Chapter 47
52. Chapter 48
53. Chapter 49
54. Chapter 50
55. Chapter 51
56. Chapter 52
57. Chapter 53
58. Chapter 54
59. Chapter 55
60. Chapter 56
61. Epilogue
62. Saving Sky (Sample)
63. A Note from the Author
64. Also By Natasha L. Black
65. About the Author and Mailing List