Playoff King by Kristen Echo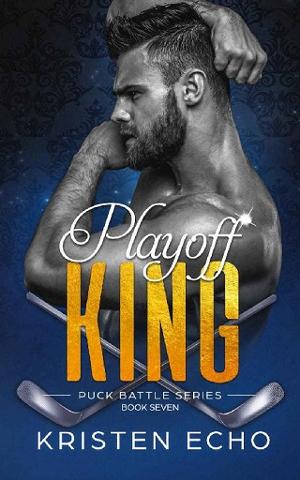 It's time to play dirty.
Jill Manor's marriage is over, but the playoffs are in full swing. When she lands in bed with the enemy, she's forced to decide between love and protecting her family.
Luka Pedlanski's an NHL enforcer for the opposing hockey team. He's strong, rough and ignites a fire she thought had burned out after having three kids. He's a decade younger with bulging muscles and a huge… hockey stick.
Lines blur as he plays to win the Stanley Cup and her heart. She's been burned by one hockey superstar, and she's not sure she can handle another tour on the ice.
Book Details
File Nameplayoff-king-by-kristen-echo.epub
Original TitlePlayoff King (Puck Battle Book 7)
Creator

Kristen Echo

Languageen
IdentifierMOBI-ASIN:B07JHFZZQZ
Publisher

Kristen Publishing

Date2018-10-15T23:00:00+00:00
File Size206.266 KB
Table of Content
1. PLAYOFF KING
2. PUCK BATTLE SERIES
3. TABLE OF CONTENTS
4. CHAPTER ONE
5. CHAPTER TWO
6. CHAPTER THREE
7. CHAPTER FOUR
8. CHAPTER FIVE
9. CHAPTER SIX
10. CHAPTER SEVEN
11. CHAPTER EIGHT
12. CHAPTER NINE
13. CHAPTER TEN
14. CHAPTER ELEVEN
15. CHAPTER TWELVE
16. CHAPTER THIRTEEN
17. CHAPTER FOURTEEN
18. CHAPTER FIFTEEN
19. CHAPTER SIXTEEN
20. CHAPTER SEVENTEEN
21. CHAPTER EIGHTEEN
22. EPILOGUE
23. AUTHOR NOTE
24. SNEAK PEEK
25. Puck Battle Series Book Eight
26. ABOUT THE AUTHOR
27. OTHER BOOKS BY KRISTEN ECHO:
28. ACKNOWLEDGEMENTS