No Regrets by K.J. Dahlen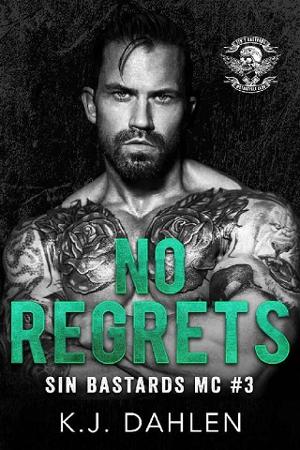 Only I have the will and the power to protect her.
She'll escape him – or die trying.
Reva: Everybody has regrets.
My regret will haunt me forever.
Like a dark curse, it's coming for me.
He'll be out of prison soon.
The man I married long ago.
This time, I won't be standing alone.
Gator vowed he'll be by my side when his brother returns.
His brother: the man who almost killed me 17 years ago.
But while Gator fights to save me, I harbour a dark secret that could destroy us.
We'll face the evil that's coming to end this regret once and for all. But if I find the courage to reveal my long held secret, can Gator keep his MC and can I keep him?
File Name:no-regrets-by-k-j-dahlen.epub
Original Title:No Regrets (Sin's Bastards MC Book 3)
Creator:

K.J. Dahlen

Language:en
Identifier:MOBI-ASIN:B07FPTRLKW
Publisher:

K.J. Dahlen

Date:2018-07-17T16:00:00+00:00
File Size:394.092 KB
Table of Content
1. Table of Contents
2. Title Page
3. CREDITS
4. DEDICATION:
5. PROLOGUE
6. CHAPTER ONE
7. CHAPTER TWO
8. CHAPTER THREE
9. CHAPTER FIVE
10. CHAPTER SIX
11. CHAPTER SEVEN
12. CHAPTER EIGHT
13. CHAPTER NINE
14. CHAPTER TEN
15. CHAPTER ELEVEN
16. CHAPTER TWELVE
17. CHAPTER THIRTEEN
18. CHAPTER FOURTEEN
19. NEXT UP:
20. LOOK FOR
21. ABOUT K. J. DAHLEN