Never Too Late by Quinn Ward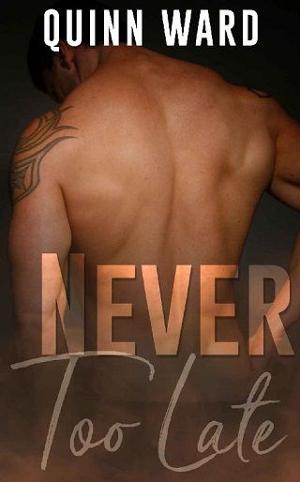 Dax would have died on the side of the road…if not for the stranger who saved him.
Living in the town where his life changed, Dax can't help but wonder if he's passed the man who brought him back to life.
He doesn't know what that incident cost the med student who stopped to help a dying man.
Now, it's Dax's turn to repay the favor, even if neither of them realize it.
Never Too Late was previously published under the pen name Sloan Johnson, the alter ego of Quinn Ward.
File Name:never-too-late-by-quinn-ward.epub
Original Title:Never Too Late
Creator:

Quinn Ward

Language:en
Identifier:MOBI-ASIN:B083ZXBVHS
Date:2020-01-25T16:00:00+00:00
File Size:267.202 KB
Table of Content
1. Title Page
2. Dedication
3. Contents
4. 1. Dax
5. 2. Michael
6. 3. Dax
7. 4. Michael
8. 5. Dax
9. 6. Michael
10. 7. Dax
11. 8. Michael
12. 9. Michael
13. 10. Dax
14. 11. Michael
15. 12. Michael
16. 13. Dax
17. 14. Michael
18. 15. Dax
19. 16. Michael
20. 17. Dax
21. 18. Michael
22. 19. Dax
23. 20. Michael
24. 21. Michael
25. 22. Dax
26. 23. Dax
27. 24. Michael
28. 25. Michael
29. 26. Michael
30. 27. Dax
31. Epilogue
32. About Quinn
33. Also by Quinn Ward