Never Again by L.E. Bross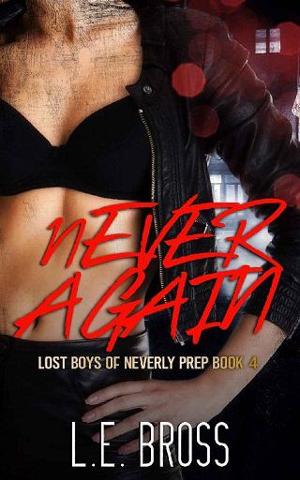 We were supposed to be living our Happily Ever After.
It's been three months since we graduated. X started college, Riot's pursuing his Motocross sponsorship, and Baz is working 20 hour days to try to clean up Peter's mess. Me? I don't have a clue what I want to do with my life yet.
But that might not matter. Peter isn't accepting defeat, even from a prison cell, and revenge is the name of the game. I don't know if my boys and I are strong enough to get through it again. Especially when my past finally catches up with me.
I'm Ever Darlington and this time? I might not have a way out.
File Name:never-again-by-l-e-bross.epub
Original Title:Never Again: Lost Boys of Neverly Prep: Academy Romance
Creator:

L.E. Bross

Language:en
Identifier:MOBI-ASIN:B07YX3PCWW
Date:2020-01-18T16:00:00+00:00
File Size:259.779 KB
Table of Content
1. Title Page
2. Copyright
3. This book is dedicated to all of you: My readers.
4. Chapter One
5. Chapter Two
6. Chapter Three
7. Chapter Four
8. Chapter Five
9. Chapter Six
10. Chapter Seven
11. Chapter Eight
12. Chapter Nine
13. Chapter Ten
14. Chapter Eleven
15. Chapter Twelve
16. Chapter Thirteen
17. Chapter Fourteen
18. Chapter Fifteen
19. Chapter Sixteen
20. Chapter Seventeen
21. Chapter Eighteen
22. Chapter Nineteen
23. Five years later…
24. Acknowledgements
25. Social media links
26. More books by L.E. Bross