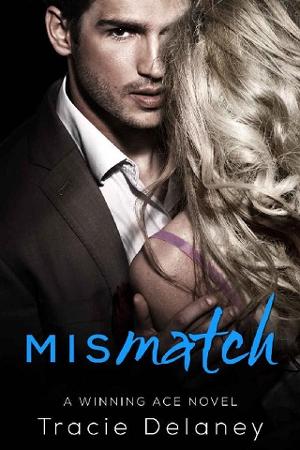 The perfect life. A killer blow.
When playboy Rupe Fox-Whittingham wakes up in bed next to a dead woman, he's charged with murder. His best friend, ex-tennis ace Cash Gallagher, arranges for frosty but brilliant lawyer, Jayne Seymour, to represent him.
Jayne swore off men after her husband's terrible betrayal. She's far too bright to make the same mistake twice.
Rupe wants her—and he always gets what he wants. Winning her heart won't be easy. Still, he thrives on challenge.
When danger comes knocking, the mismatched pair are thrown together.
Can Jayne learn to trust again, before it's too late? Or will fate step in to snatch her happiness away?
Book Details
File Namemismatch-by-tracie-delaney.epub
Original TitleMismatch: A Winning Ace Novel (Book 4) (A Winning Ace Novel)
Creator

Tracie Delaney

Languageen
IdentifierMOBI-ASIN:B077YYRF8J
Date2017-12-20T16:00:00+00:00
File Size281.425 KB
Table of Content
1. Newsletter Sign Up
2. Chapter 1
3. Chapter 2
4. Chapter 3
5. Chapter 4
6. Chapter 5
7. Chapter 6
8. Chapter 7
9. Chapter 8
10. Chapter 9
11. Chapter 10
12. Chapter 11
13. Chapter 12
14. Chapter 13
15. Chapter 14
16. Chapter 15
17. Chapter 16
18. Chapter 17
19. Chapter 18
20. Chapter 19
21. Chapter 20
22. Chapter 21
23. Chapter 22
24. Chapter 23
25. Chapter 24
26. Chapter 25
27. Chapter 26
28. Chapter 27
29. Chapter 28
30. Chapter 29
31. Chapter 30
32. Chapter 31
33. Chapter 32
34. Chapter 33
35. Chapter 34
36. Chapter 35
37. Chapter 36
38. Chapter 37
39. Cash: A Winning Ace Short Story
40. Winning Ace Blurb
41. Losing Game Blurb
42. Grand Slam Blurb
43. FROM MY HEART
44. Acknowledgments
45. About the Author