Last Girl Dancing by Kate Aeon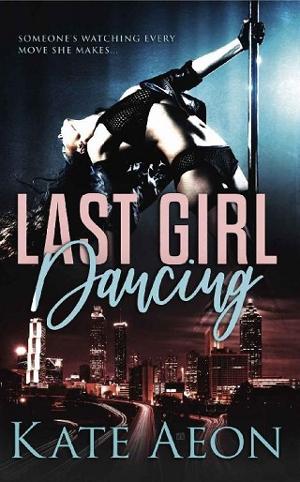 The Cop Has a Secret…
Getting through the interview is bad enough, but when Detective Jess Brubaker discovers that her temporary assignment to her dream job includes being saddled with a psychic, she almost walks out the door.But she has reasons for staying, reasons she's keeping to herself. And to get to work in the Atlanta PD's Special Crimes Unit—to get to be on THIS case—she'd partner with the devil himself.
The Psychic Has a Past…
Ex-Ranger Hank Kamian lost everything that ever mattered to him when he took a grenade to the chest and face. After years of recovering, he's managed to rebuild most of his life. He even does the occasional psychic gig for the Atlanta PD.But now the cops want him to work with his greatest anguish made flesh. He distrusts Jess on first sight.
The Case Is A Nightmare…
Young exotic dancers are being murdered, their bodies displayed after death in staged public scenes. The murders take Jess back to the darkest time in her life, to the secret no one knows about her. To the loss of her dreams, her career, her family.
The cases are linked to important men in high places—and if Jess wants to solve them, she's going to have to step into a world she abandoned, trust the man she dares not trust, and dance on the stage with Death.
Book Details
File Namelast-girl-dancing-by-kate-aeon.epub
Original TitleLast Girl Dancing
Creator

Kate Aeon

Languageen
IdentifierISBN:9781624560354
Publisher

OneMoreWord Books

Date2018-04-11T16:00:00+00:00
File Size426.288 KB
Table of Content
1. Title Page
2. Copyright
3. Dedication
4. Contents
5. Chapter 1
6. Chapter 2
7. Chapter 3
8. Chapter 4
9. Chapter 5
10. Chapter 6
11. Chapter 7
12. Chapter 8
13. Chapter 9
14. Chapter 10
15. Chapter 11
16. Chapter 12
17. Chapter 13
18. Chapter 14
19. Chapter 15
20. Chapter 16
21. Chapter 17
22. Chapter 18
23. Chapter 19
24. Chapter 20
25. Chapter 21
26. Acknowledgments
27. About Kate Aeon
28. Other Books by Kate Aeon