Kinsmen: Complete Series by J.C. Allen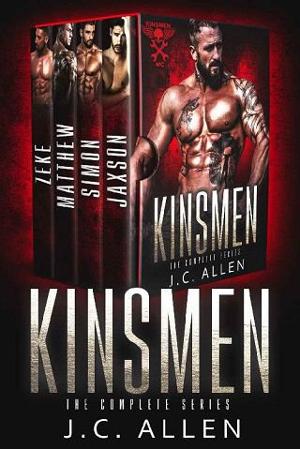 Buckle your seat-belts and lose yourself inside the world of the Kinsmen MC and experience firsthand the fiery passion of men who live life to the fullest with no holds barred.
Jaxson:
I need to save my club… without losing her in the process.
I knew I wanted her the moment I saw her.
Those sweet brown eyes give me sleepless nights.
I thought one taste of her would be enough.
But she's become my goddamn drug.
I'm the president of the Kinsmen MC.
And Isabelle White has turned my mundane life upside down.
All I think about is running my fingers through her dark wavy hair.
Her kissable lips beg for me for shut out the rest of the world.
And now that the club is in trouble…
She's the one thing that's keeping me together.
I'm obsessed.
My father started this club.
I will give my life trying to keep it safe.
And I will never let the danger take Isabelle from me.
Simon:
The only woman I ever loved has come back with a secret.
She's in danger and I've vowed to protect her.
As a Kinsmen just like my brothers, I have the club by my side.
Ella left me once.
And my world changed the instant I saw her innocent face again.
Now that she's back…
I'd be damned if I let her get away a second time.
The club is my life… And this woman is my soul.
She won't need to run from evil for much longer.
She will be safe.
And I will keep her here, even if all hell breaks loose.
Matthew:
She walked back into my life. And now she's pregnant.
My club was the most important thing to me.
That is before I saw Grace… again.
She reminded of the happy man I used to be.
I almost had her one night back in high school.
Ever since then, I've dreamed of picking up where I left off.
But just when I think we're about to ride into the sunset together…
I find out that our enemies are threatening the club.
My only focus is to keep Grace safe.
I will go to any extreme to protect her and our baby.
Zeke:
We're nothing but two people who want each other, just for tonight.
At least that's what it was supposed to be. When I met Allison, all I wanted was some fun. I don't do relationships, I do one night, not strings, and that's it.
Until I met her.
I have been trying to let go of all my pain, let the past stay there. But the club still has it's problems and so do I. So when she starts to make them disappear, I wonder if I can be good enough for her and then I start hoping that I am.
She might be the only thing to change me, the only woman I am meant to change for. We are nothing but two people who want each other.
File Name:kinsmen-complete-series-by-j-c-allen.epub
Original Title:Kinsmen: The Complete Series (Kinsmen MC)
Creator:

J.C. Allen

Language:en
Identifier:uuid:2e250931-e5ef-4f7c-92e8-32075f617065
Date:2019-05-21T04:00:00+00:00
File Size:727.631 KB
Table of Content
1. Title Page
2. Contents
3. Jaxson

1. Jaxson
2. Isabelle
3. Jaxson
4. Isabelle
5. Jaxson
6. Isabelle
7. Jaxson
8. Isabelle
9. Jaxson
10. Isabelle
11. Jaxson
12. Isabelle
13. Jaxson
14. Isabelle
15. Jaxson
16. Isabelle
Epilogue

4. Simon

1. Simon
2. Rosella
3. Simon
4. Rosella
5. Simon
6. Rosella
7. Simon
8. Rosella
9. Simon
10. Rosella
11. Simon
12. Rosella
13. Simon
14. Rosella
15. Simon
16. Rosella
17. Simon
18. Rosella
19. Simon
Epilogue

5. Matthew

1. Matthew
2. Grace
3. Matthew
4. Grace
5. Matthew
6. Grace
7. Matthew
8. Grace
9. Matthew
10. Grace
11. Matthew
12. Grace
13. Matthew
14. Grace
15. Matthew
16. Grace
17. Matthew
18. Grace
19. Matthew
20. Grace
21. Matthew
22. Grace
Epilogue

6. Zeke

1. Zeke
2. Allison
3. Zeke
4. Allison
5. Zeke
6. Allison
7. Zeke
8. Allison
9. Zeke
10. Allison
11. Zeke
12. Allison
13. Zeke
14. Allison
15. Zeke
16. Allison
17. Zeke
18. Allison
19. Zeke
20. Allison
21. Zeke
22. Allison
23. Zeke
24. Allison
Epilogue

7. Also by J.C. Allen