Kept #3 by Helen Allan
no ratings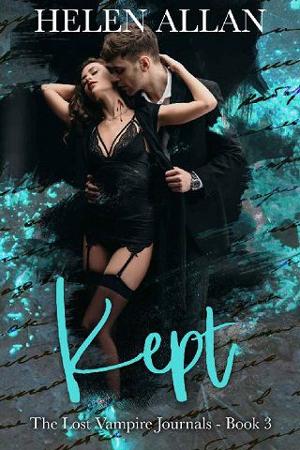 FINDERS – KEEPERS
Imprisoned on Ereston Estate, Josephine finds herself a captive of Lord Nicholas Montague, vampire.
Turning to the only one she knows who might be able to save her, she is on a race against time to join forces with the hunters and escape the manor with her life.
But as she gets to know her brooding and increasingly irresistible captor, she recognises that if she is not careful, there is something she will leave behind – her heart.
File Name:kept-3-by-helen-allan.epub
Original Title:Kept: The Lost Vampire Journals Book 3 (The Kept Series)
Creator:

Helen Allan

Language:en
Identifier:MOBI-ASIN:B07Y9M4378
Publisher:

Hell West Press

Date:2019-11-30T16:00:00+00:00
File Size:301.285 KB
Table of Content
1. KEPT
2. For my keeper
3. Books by Helen Allan
4. If I must die
5. PREFACE
6. 1
7. 2
8. 3
9. Toad in the Hole
10. 4
11. 5
12. Spaghettini Al Sugo Crudo and Pasta recipe
13. 6
14. 7
15. 8
16. Faisan en Cocotte Vigneronne
17. 9
18. 10
19. 11
20. Sautѐ de poulet à la mariniѐr
21. 12
22. Dear Readers,
23. Gypsy Blood