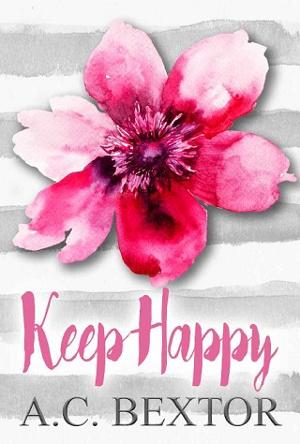 Those who think they know me would tell you I'm a caring mother, a loyal friend, and a dutiful wife. They'd say the golden path which led me here is the road every little girl dreams of taking.
However, the guise of my happy existence has come to be just that—an illusion. A mask of contentment intended for the world to believe.
Not many years into my marriage, I became an abandoned housewife to an adulterous husband. A proud, but sad, mother of two beautiful daughters.
My days were spent somewhere lost between empty and alone.
Then he came back. Mason Cole offered a second chance to share the life we were supposed to have together. He gave me a glimpse of myself. The woman I'd forgotten long ago.
My road to hell was paved with good intentions. But sometimes good intentions get lost amidst a heart's desire.
At least mine did.
Now I'll tell you why.
Book Details
File Namekeep-happy-by-a-c-bextor.epub
Original TitleKeep Happy
Creator

A.C. Bextor

Languageen
IdentifierMOBI-ASIN:B07D2CYDHC
Publisher

A.C. Bextor

Date2018-05-12T16:00:00+00:00
SubjectBook One
File Size574.973 KB
Table of Content
1. Title Page
2. Table of Contents
3. Copyright
4. Dedication
5. Description
6. Epigraph
7. Prologue
8. Chapter One
9. Chapter Two
10. Chapter Three
11. Chapter Four
12. Chapter Five
13. Chapter Six
14. Chapter Seven
15. Chapter Eight
16. Chapter Nine
17. Chapter Ten
18. Chapter Eleven
19. Chapter Twelve
20. Chapter Thirteen
21. Chapter Fourteen
22. Chapter Fifteen
23. Chapter Sixteen
24. Chapter Seventeen
25. Chapter Eighteen
26. Chapter Nineteen
27. Chapter Twenty
28. Chapter Twenty-One
29. Chapter Twenty-Two
30. Chapter Twenty-Three
31. Chapter Twenty-Four
32. Chapter Twenty-Five
33. Chapter Twenty-Six
34. Chapter Twenty-Seven
35. Chapter Twenty-Eight
36. Chapter Twenty-Nine
37. Chapter Thirty
38. Chapter Thirty-One
39. Chapter Thirty-Two
40. Chapter Thirty-Three
41. Chapter Thirty-Four
42. Chapter Thirty-Five
43. Chapter Thirty-Six
44. Chapter Thirty-Seven
45. Chapter Thirty-Eight
46. Chapter Thirty-Nine
47. Acknowledgements
48. Playlist
49. What's coming…
50. Other Books
51. Sneak Peek of Keeping 6 by Freya Barker