Intercepted Hearts by Mika Jolie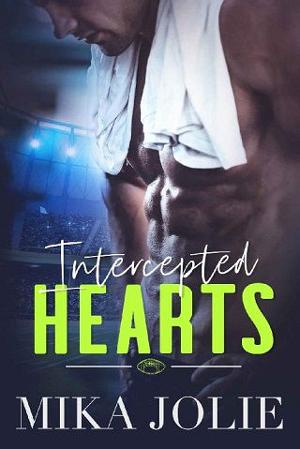 The NFL's hottest quarterback sets his sights on me, he's the one guy I can't have.
Hudson Baldwin is a player—in every sense of the term.
The god of the gridiron has no lack of women throwing themselves at him.
Football players have always been on my no-go list.
Just because I have to cheer for him doesn't mean I want anything to do with his advances.
Yet, here he is…telling me he wants me.
He wants us.
I'm not here to score with the NFL star player.
But the more time I spend with the king of the turf, the more hits my defenses take.
Can the connection between us be real?
Or is believing love can exist in this brutal sport nothing more than a Hail Mary?
File Name:intercepted-hearts-by-mika-jolie.epub
Original Title:Intercepted Hearts: A Standalone Sports Romance (Playing for Keeps Book 1)
Creator:

Mika Jolie

Language:en
Identifier:MOBI-ASIN:B083RPWTNX
Date:2020-01-23T16:00:00+00:00
File Size:182.644 KB
Table of Content
1. Title Page
2. Contents
3. Chapter 1
4. Chapter 2
5. Chapter 3
6. Chapter 4
7. Chapter 5
8. Chapter 6
9. Chapter 7
10. Chapter 8
11. Chapter 9
12. Chapter 10
13. Chapter 11
14. Chapter 12
15. Chapter 13
16. Chapter 14
17. Chapter 15
18. Chapter 16
19. Chapter 17
20. Chapter 18
21. Chapter 19
22. Chapter 20
23. Epilogue
24. Another Epilogue
25. An Excerpt from Defenseless Hearts
26. Intercepted Hearts Playlist
27. Acknowledgments
28. About Mika
29. Also by Mika Jolie