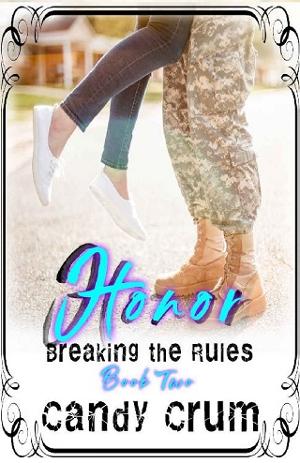 Grief can bring out the worst in people—even those with the purest hearts.
After losing her veteran husband to PTSD, Disiree has stayed focused on life and work. She keeps to herself and avoids anything even remotely resembling a man with interest in her.
Nearly a year has gone by, and she receives a surprise visit from Elizabeth and Jax, who want to help her through the first anniversary. But their surprise visit isn't the only one Desiree receives…
Aiden has been fighting his own demons for the last year, and now that a year has gone by, he knows he has to go back. He has to finish the one job his best friend in the world gave him to do. One he failed to do before and has regretted every since.
But in the darkest of moments, light somehow makes its way through. Both Desiree and Aiden find themselves in a situation neither ever planned for.
Book Details
File Namehonor-by-candy-crum.epub
Original TitleHonor (Breaking the Rules Book 2)
Creator

Candy Crum

Languageen
IdentifierMOBI-ASIN:B07CXJNSFT
Publisher

Valkyrie Publishing LLC

Date2018-05-14T16:00:00+00:00
File Size219.412 KB