Her Billionaire Single Dad by Jewel Allen
no ratings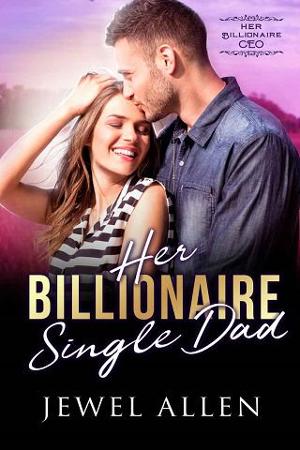 He's a single dad to two orphaned children. She's the nanny who just might open his eyes to love on an African safari.
Billionaire eye doctor Michael Monroe is content with his globe-trotting life devoted to his patients…until tragedy strikes and his niece and nephew are orphaned. Named their guardian, he becomes an instant single dad and soon finds himself in over his head. With his bucket list African safari approaching, he needs extra help …fast.
After quitting her high-stress law firm partnership, Lara Cannon welcomes a transition to her next career. This low-key nanny gig seems like the perfect answer to her prayers. Between her adorable young charges and the adventure of a safari, she's loving life. When she sees past the handsome doctor's awkward charm into his generous heart, she craves for a lasting love….if only she could trust again.
File Name:her-billionaire-single-dad-by-jewel-allen.epub
Original Title:Her Billionaire Single Dad (Her Billionaire CEO, #8)
Creator:

Allen, Jewel

Language:en
Identifier:2677140174
Publisher:

Jewel Allen

Date:2019-04-29
File Size:354.527 KB
Table of Content
1. Copyright Page
2. Chapter 1
3. Chapter 2
4. Chapter 3
5. Chapter 4
6. Chapter 5
7. Chapter 6
8. Chapter 7
9. Chapter 7
10. Chapter 8
11. Chapter 9
12. Chapter 10
13. Chapter 11
14. Chapter 12
15. Chapter 13
16. Chapter 14
17. Chapter 15
18. Chapter 16
19. Chapter 17
20. Chapter 18
21. Chapter 19
22. Chapter 20
23. Chapter 21
24. Chapter 22
25. Chapter 23
26. Chapter 24
27. Chapter 25
28. Chapter 26
29. Chapter 27
30. Chapter 28
31. Chapter 29
32. Chapter 30
33. Chapter 31
34. Chapter 32
35. Chapter 33
36. Chapter 34
37. Chapter 35
38. Chapter 36
39. Chapter 37
40. Chapter 38
41. Chapter 39
42. Chapter 40
43. Chapter 41
44. Chapter 42
45. Chapter 43
46. Chapter 44
47. Chapter 45
48. Chapter 46
49. Sneak Peek at | Her Billionaire Sheikh
50. Next in Her Billionaire CEO