Genealogy, a novel by Mae Wood
no ratings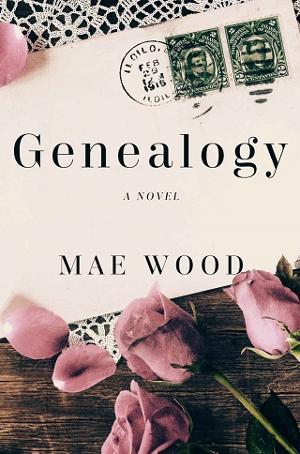 Inspired by real, hundred-year-old love letters.
My great-grandmother's name is bold across the cream envelope, now golden at the seams with age. I can't remember the last time I've seen graceful, purposeful handwriting with a fountain pen and not the hasty scrawl of ballpoint.
Alice Hirshhorn, Astoria Hotel, Seattle Washington.
"Letters to Great-grandma Alice," I say with wonder, tracing my fingers over the faded postmark and foreign stamps.
December 1915. Philippine Islands.
I turn the thick envelope in my palm, slide out the tightly folded pages, and unfold the thin paper, taking care not to tear the letters that were important enough to keep for a century.
My dearest Alice
"Great-grandpa was in the Philippines?" I ask.
"Oh no. Not your great-grandfather," answers Grammie, her eyes twinkling with her mother's secrets. "Elliott."
​~~~
At thirty-three and with her future unclear, Ali Waller finds her way home again. A box of long-forgotten love letters written to her great-grandmother holds the unlikely key to Ali finding her new path.
As she tracks down the letter writer and his descendants, Ali learns the magic of love, hope, and resilience.
Told by three characters, and across century and an ocean, Genealogy is an enchanting story about love and loss, taking chances, and embracing the surprises that life brings.
File Name:genealogy-a-novel-by-mae-wood.epub
Original Title:Genealogy: a novel
Creator:

Mae Wood

Language:en
Identifier:MOBI-ASIN:B07JHHW9J2
Publisher:

Atacama Books

Date:2018-10-24T18:30:00+00:00
File Size:315.360 KB
Table of Content
1. Title Page
2. Contents
3. Copyright
4. Dedication
5. 1. One
6. 2. Two
7. 3. Three
8. 4. Four
9. 5. Five
10. 6. Six
11. 7. Seven
12. 8. Eight
13. 9. Nine
14. 10. Ten
15. 11. Eleven
16. 12. Twelve
17. 13. Thirteen
18. 14. Fourteen
19. 15. Fifteen
20. 16. Sixteen
21. 17. Seventeen
22. 18. Eighteen
23. 19. Nineteen
24. 20. Twenty
25. 21. Twenty-one
26. 22. Twenty-two
27. 23. Twenty-three
28. 24. Twenty-four
29. 25. Twenty-five
30. 26. Twenty-six
31. 27. Twenty-seven
32. 28. Twenty-eight
33. 29. Twenty-nine
34. 30. Thirty
35. 31. Thirty-one
36. 32. Thirty-two
37. 33. Thirty-three
38. 34. Thirty-four
39. 35. Thirty-five
40. 36. Thirty-six
41. 37. Thirty-seven
42. 38. Thirty-eight
43. Author's Note
44. Discussion guide
45. Acknowledgments
46. Also by Mae Wood
47. About the Author