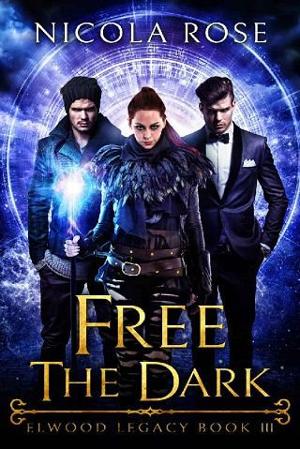 The world is descending into devastating chaos. There's a new enemy to mankind on the horizon… it's me.
I'm ready to let go of morality. It's time to play.
But how much 'fun' is too much when you've accidentally triggered the vampire apocalypse?! Are there any lines left that shouldn't be crossed?
There's a brand new hunger under my skin, and it wants more,/i>. More of Alex's darkness, more of Zac's light—
The two don't go together, but that doesn't stop the pull in my chest, or the ravenous shadowy beat that strikes a constant melody in my soul, driving me forward, destruction in my wake.
Can I really side with vampires and stand by as humanity is lost?
Because once that darkness is set free, pulling it back might be beyond my capabilities.
Book Details
File Namefree-the-dark-by-nicola-rose.epub
Original TitleFree the Dark (Elwood Legacy Book 3)
Creator

Nicola Rose

Languageen
IdentifierMOBI-ASIN:B07PMSQ888
Date2019-05-13T16:00:00+00:00
File Size408.684 KB
Table of Content
1. Full Page Image
2. Copyright
3. Dedication
4. Contents
5. Epigraph
6. Playlist (find on Spotify)
7. Author's Note
8. 1. Jess
9. 2. Zac
10. 3. Alex
11. 4. Jess
12. 5. Zac
13. 6. Jess
14. 7. Alex
15. 8. Jess
16. 9. Jess
17. 10. Alex
18. 11. Jess
19. 12. Alex
20. 13. Jess
21. 14. Zac
22. 15. Jess
23. 16. Zac
24. 17. Jess
25. 18. Jess
26. 19. Zac
27. 20. Jess
28. 21. Jess
29. 22. Jess
30. 23. Alex
31. 24. Zac
32. 25. Jess
33. 26. Jess
34. 27. Jess
35. 28. Jess
36. 29. Alex
37. 30. Zac
38. 31. Jess
39. 32. Alex
40. 33. Jess
41. 34. Zac
42. 35. Alex
43. 36. Jess
44. 37. Zac
45. 38. Jess
46. 39. Alex
47. 40. Jess
48. 41. Zac
49. 42. Jess
50. 43. Jess
51. 44. Alex
52. 45. Jess
53. 46. Zac
54. Exclusive Content!
55. Books by Nicola Rose
56. About the Author
57. Acknowledgments