Dragon Blood by S.A. Ravel
no ratings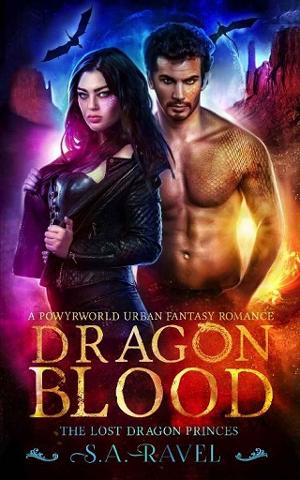 A skinwalker with a mythic imprint. A dragon gone to ground. A horrifying threat with ties that run blood deep.
For the second time in her life, Sanaa Chavez finds herself on the wrong side of the Elder Council. In a world where good standing with the tribe is a matter of survival, that is not a safe place to be. Things only get worse when a dark walker starts hunting Sanaa's baby for the dragon blood that flows in her veins. To make matters worse, hunter happens to be Sanaa's estranged mother, Niabe. Her daughter's future, her position in the clan, her very life depend on secrets she swore never to tell. All of her hopes lie in the dragon who fathered her baby, but the Dragon in the Mountain's aid comes with a price.
Ronin Nori took his leave from the world after the devastating loss of his wife, Evette. Now he lives a solitary life, playing god to the Bloodbone Skinwalkers. In ten years of solitude, only one woman tempted Ronin's fiery Heat. To protect Sanaa and his child, Ronin must complete an ancient rite of passage and settle old hurts. His heart isn't his to give, but a dragon doesn't walk away from his spawn…or his mate.
When the kidnapping attempts intensify, Ronin and Sanaa use every tool in their arsenal to bring Niabe to justice. The only question now is which will take them first: the battle or the Heat?
File Name:dragon-blood-by-s-a-ravel.epub
Original Title:Dragon Blood: A Powyrworld Urban Fantasy Romance (The Lost Dragon Princes Book 4)
Creator:

S. A. Ravel

Language:en
Identifier:MOBI-ASIN:B077ZTF7B5
Publisher:

Dreamkeeper Publishing

Date:2017-12-06T16:00:00+00:00
File Size:523.013 KB
Table of Content
1. Your FREE Book
2. Welcome to Powyrworld
3. Glossary
4. Chapter 1
5. Chapter 2
6. Chapter 3
7. Chapter 4
8. Chapter 5
9. Chapter 6
10. Chapter 7
11. Chapter 8
12. Chapter 9
13. Chapter 10
14. Chapter 11
15. Chapter 12
16. Chapter 13
17. Chapter 14
18. Dragon Star: Sneak Peek
19. Dragon Claimed: Sneak Peek
20. Dragon Mob: Sneak Peek
21. Alpha Unmasked
22. About the Author