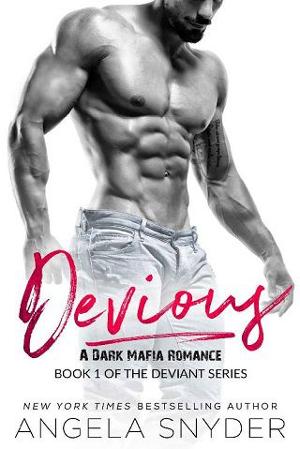 When I meet Victoria, it's not for the first time like she believes.
Victoria doesn't remember me.
We met years ago when we were children. When we were innocent.
But my innocence and childhood were stolen from me by her father.
And now she's the key to finally getting my revenge.
I have a plan in place. A simple one. Make her fall for me, so that I can get back at the man who destroyed my life and murdered my family.
I'll use her. Take what I want. And not give a single f**k.
But the closer I get to Victoria, the more my old, locked away feelings for her start to resurface and bleed through my dark heart.
And when the moment comes to take my revenge, will I be able to pull the trigger if it means I could ultimately lose her forever?
Book Details
File Namedevious-by-angela-snyder.epub
Original TitleDevious: A Dark Mafia Romance (Deviant Series Book 1)
Creator

Angela Snyder

Languageen
IdentifierMOBI-ASIN:B07NCPRWX2
Date2019-02-08T16:00:00+00:00
File Size181.880 KB
Table of Content
1. DEVIOUS
2. COPYRIGHT
3. AUTHOR'S NOTE
4. DEDICATION
5. SYNOPSIS
6. PLAYLIST
7. TABLE OF CONTENTS
8. PROLOGUE
9. CHAPTER 1
10. CHAPTER 2
11. CHAPTER 3
12. CHAPTER 4
13. CHAPTER 5
14. CHAPTER 6
15. CHAPTER 7
16. CHAPTER 8
17. CHAPTER 9
18. CHAPTER 10
19. CHAPTER 11
20. CHAPTER 12
21. CHAPTER 13
22. CHAPTER 14
23. CHAPTER 15
24. CHAPTER 16
25. CHAPTER 17
26. CHAPTER 18
27. CHAPTER 19
28. CHAPTER 20
29. CHAPTER 21
30. CHAPTER 22
31. CHAPTER 23
32. CHAPTER 24
33. CHAPTER 25
34. CHAPTER 26
35. CHAPTER 27
36. CHAPTER 28
37. CHAPTER 29
38. ABOUT THE AUTHOR