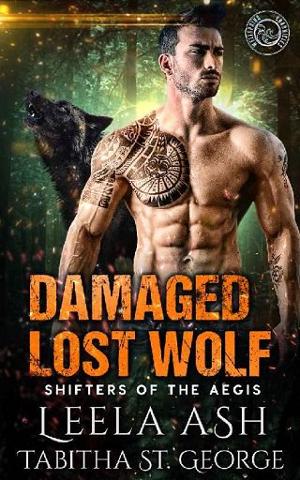 For years Ash has fought to win a place of honor among Shifters. Over and over, they reject her. Until the day a Lost Wolf comes to her rescue…
The daughter of a powerful Witch Hare, Ash Anderson didn't inherit her mother's gift. She's considered Kin, but not a true Shifter. As such she feels doomed to forever be an outsider. She is not particularly special…but she's not exactly normal either…
Her unlikely savior is Lucas Clay. No woman gets close to his heart, for he's a werewolf, cursed to live and die alone. Or so he thinks. Then Ash introduces him to Shifter society and his world turns upside down. Suddenly there's both hope for him as well as for their love.
A hope that is shattered when his introduction to the local Wolf Pack goes horribly wrong.
Suddenly Ash and Lucas are on the run, hunted by both Shifters and the evil Fangs of Apophis. Caught in a web of treachery, they struggle to unravel a mystery that threatens the entire Shifter world. The Lone Wolf's instincts urge him to flee, to turn his back on the Shifters who unjustly attack him. Yet he cannot bear to leave her. Their passion is the slender leash that binds him to his humanity. But she is hiding a secret that could destroy there bond before it firmly takes hold…
Book Details
File Namedamaged-lost-wolf-by-leela-ash.epub
Original TitleDamaged Lost Wolf (Shifters of the Aegis Book 3)
Creator

Leela Ash

Languageen
IdentifierMOBI-ASIN:B07SMBL7MN
Date2019-06-02T16:00:00+00:00
File Size258.429 KB
Table of Content
1. Chapter 1.
2. Chapter 2.
3. Chapter 3.
4. Chapter 4.
5. Chapter 5
6. Chapter 6.
7. Chapter 7.
8. Chapter 8.
9. Chapter 9.
10. Chapter 10.
11. Chapter 11.
12. Chapter 12.
13. Chapter 13.
14. Chapter 14.
15. Chapter 15.
16. Chapter 16.
17. Chapter 17.
18. Chapter 18.
19. Chapter 19.
20. Chapter 20.
21. Chapter 21.
22. Chapter 22.
23. Chapter 23.
24. Chapter 24.
25. Chapter 25.
26. Burning Falls Shifters Preview