Claimed by the Ex-Con by Ambrielle Kirk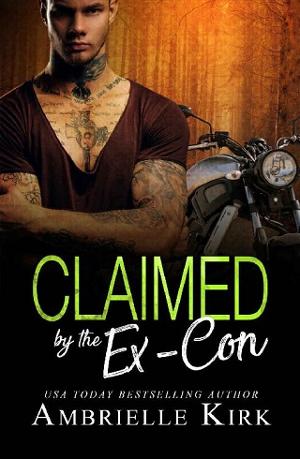 I'll break any man to protect her, but can I keep her safe from the real monster–me?
Two damaged souls. Two pure hearts. An obsession that never fades.
I was sent to ruin her life.
I took one glimpse at her gorgeous hourglass figure, and instead, I want to make her mine.
She wants out of this life, and an outlaw with a violent past like mine would only break her. But I can't resist her beauty or her innocence, so I bargained to keep her.
When it's time to seal the deal–to collect what's mine–I let her slip away. I think she's lost forever.
By sheer luck, I find her. After all these years, she still has the same pull over me. I'm not losing her again.
She's part of my past and my present, so running from my past isn't an option.
When I look into her eyes, I see my redemption. She's my future and she already owns my heart.
File Name:claimed-by-the-ex-con-by-ambrielle-kirk.epub
Original Title:Claimed by the Ex-Con: An Ex-Con Second Chance Contemporary Romance Novel
Creator:

Ambrielle Kirk

Language:en
Identifier:MOBI-ASIN:B07GSJN4GQ
Publisher:

Books by Ambrielle

Date:2018-08-21T16:00:00+00:00
File Size:368.772 KB
Table of Content
1. Title Page
2. Copyright
3. Contents
4. Story Summary
5. Chapter 1
6. Chapter 2
7. Chapter 3
8. Chapter 4
9. Chapter 5
10. Chapter 6
11. Chapter 7
12. Chapter 8
13. Chapter 9
14. Chapter 10
15. Chapter 11
16. Chapter 12
17. Chapter 13
18. Chapter 14
19. Chapter 15
20. Chapter 16
21. Chapter 17
22. Chapter 18
23. Chapter 19
24. Chapter 20
25. Chapter 21
26. Chapter 22
27. Chapter 23
28. Epilogue
29. Bonus Epilogue
30. Message from Ambrielle Kirk
31. Preview: Kept by the Woodsman

Story Summary
Chapter 1
Chapter 2

32. The Next Arrow Lake Alpha
33. Newsletter
34. About the Author