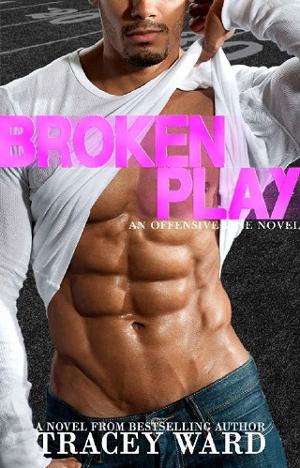 Tyus Anthony is the fastest man in football. He's also one of the sexiest. He's an advertising icon, his cut body and smoldering eyes on billboards across the country. Women want him. Agents stalk him. Coaches have tried for years to poach him, but what matters to Tyus more than anything is family, and that includes his team. He'd do anything for the Kodiaks. He's willing to forsake everything and everyone for the good of the team.
Until he meets Mila Greene.
Mila is a born party girl. A true American heiress, she's been using her family's money and influence to jet set around the globe since before she could drive. Her life has been one scandal after another for as long as anyone can remember – until last year. Suddenly, without warning or explanation, Mila put the party animal inside her to rest. She's out of the tabloids and attending college, trying to get her life in line, but it's not as easy as it sounds. The moment she meets Tyus, the animal awakes with a growl. Tyus is hot. He's fun. He's trying to resist her, which just makes her want him even more. But he's also wildly off-limits for one very big, multi-billion dollar reason:
Mila's father owns the Kodiaks.
That fact should send Tyus running from MIla as fast as his feet can carry him, but as much as he understands the risks, he can't deny the rewards. Mila is trouble, but she's also exciting. Mesmerizing. There's something about the secrets hiding in her eyes and the carefree abandon of her laugh that pull you in and refuse to let you go. Big things happen around her. Great things. Terrible things. Things that could set you up for life or raze your world to the ground.
Love is a dangerous play to make, but when it's for the right person?
That sh#t is worth risking a broken heart.
Book Details
File Namebroken-play-by-tracey-ward.epub
Original TitleBroken Play
Creator

Tracey Ward

Languageen
IdentifierMOBI-ASIN:B076BNLG48
Date2018-01-02T16:00:00+00:00
File Size350.337 KB
Table of Content
1. CHAPTER ONE
2. CHAPTER TWO
3. CHAPTER THREE
4. CHAPTER FOUR
5. CHAPTER FIVE
6. CHAPTER SIX
7. CHAPTER SEVEN
8. CHAPTER EIGHT
9. CHAPTER NINE
10. CHAPTER TEN
11. CHAPTER ELEVEN
12. CHAPTER TWELVE
13. CHAPTER THIRTEEN
14. CHAPTER FOURTEEN
15. CHAPTER FIFTEEN
16. CHAPTER SIXTEEN
17. CHAPTER SEVENTEEN
18. CHAPTER EIGHTEEN
19. CHAPTER NINETEEN
20. CHAPTER TWENTY
21. CHAPTER TWENTY-ONE
22. CHAPTER TWENTY-TWO
23. CHAPTER TWENTY-THREE
24. CHAPTER TWENTY-FOUR
25. CHAPTER TWENTY-FIVE
26. CHAPTER TWENTY-SIX
27. CHAPTER TWENTY-SEVEN
28. EPILOGUE
29. Chapter One
30. Chapter Two
31. Chapter Three
32. Chapter Four
33. Chapter Five