Bratva Blood Brothers Series by K.J. Dahlen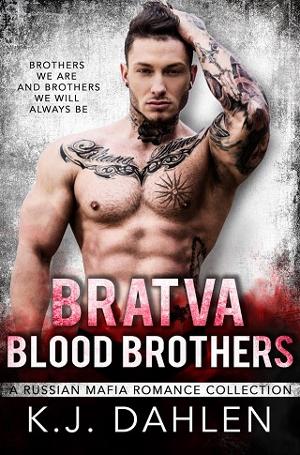 We are brothers by choice. Blood has brought us together and will forever hold us strong. Brothers we are and brothers we will always be.
Together we're unbeatable. Unstoppable.
Say what you want about the Bratva.
Say what you want about our Brotherhood.
Around this table sit five brothers, men of honor.
Bound by love for those closest to us.
A family, formed stronger than any you know.
We are vicious against our enemies.
Ruthless to those who dare hurt our family
And we were born and bred to rule.
The only laws that matter are our own.
Loyalty and allegiance are everything to us.
And those who betray us never live long enough to regret it.
Book Details
File Namebratva-blood-brothers-series-by-k-j-dahlen.epub
Original TitleBratva Blood Brothers: The Complete Series: A Russian Mafia Romance Collection
Creator

K.J. Dahlen

Languageen
IdentifierMOBI-ASIN:B07GZ32GT7
Publisher

K.J. Dahlen

Date2018-08-28T18:30:00+00:00
File Size2.281 MB
Table of Content
1. Table of Contents
2. Title Page
3. CREDITS
4. Bratva Blood Brothers
5. Chapter One
6. Chapter Two
7. Chapter Three
8. Chapter Four
9. Yuri
10. Chapter One
11. Chapter Two
12. Chapter Three
13. Chapter Four
14. Chapter Five
15. Chapter Six
16. Chapter Seven
17. Chapter Eight
18. Chapter Nine
19. Chapter Ten
20. Chapter Eleven
21. Chapter Twelve
22. Chapter Thirteen
23. MIKIAL
24. Chapter One
25. Chapter Two
26. Chapter Three
27. Chapter Four
28. Chapter Five
29. Chapter Six
30. Chapter Seven
31. Chapter Eight
32. Chapter Nine
33. Chapter Ten
34. Chapter Eleven
35. Chapter Twelve
36. Chapter Thirteen
37. Chapter Fourteen
38. BARSHAN
39. CHAPTER ONE
40. CHAPTER TWO
41. CHAPTER THREE
42. CHAPTER FOUR
43. CHAPTER FIVE
44. CHAPTER SIX
45. CHAPTER SEVEN
46. CHAPTER EIGHT
47. CHAPTER NINE
48. CHAPTER TEN
49. CHAPTER ELEVEN
50. CHAPTER TWELVE
51. Sazon
52. PROLOGUE
53. CHAPTER ONE
54. CHAPTER TWO
55. CHAPTER THREE
56. CHAPTER FOUR
57. CHAPTER FIVE
58. CHAPTER SIX
59. CHAPTER SEVEN
60. CHAPTER EIGHT
61. CHAPTER NINE
62. CHAPTER TEN
63. CHAPTER ELEVEN
64. Roman
65. CHAPTER ONE
66. CHAPTER TWO
67. CHAPTER THREE
68. CHAPTER FOUR
69. CHAPTER FIVE
70. CHAPTER SIX
71. CHAPTER SEVEN
72. CHAPTER EIGHT
73. CHAPTER NINE
74. CHAPTER TEN
75. CHAPTER ELEVEN
76. BROTHERS UNITED
77. Chapter One
78. Chapter Two
79. Chapter Three
80. Chapter Four
81. Chapter Five
82. Chapter Six
83. Chapter Seven
84. Chapter Eight
85. Chapter Nine
86. Chapter Ten
87. Chapter Eleven
88. Chapter Twelve
89. Chapter Thirteen
90. SHADOWS OF THE PAST
91. Chapter One
92. Chapter Two
93. Chapter Three
94. Chapter Four
95. Chapter Five
96. BOOK SEVEN
97. ABOUT K. J. DAHLEN