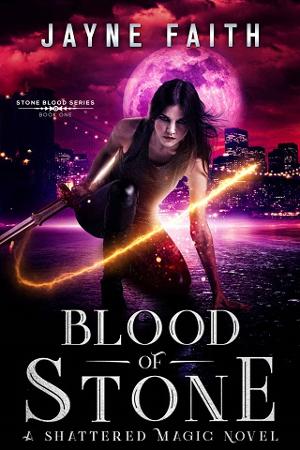 A new race of Fae. Their reluctant champion. Every ruler in Faerie is coming for her.
Every kingdom in Faerie wants to claim Petra's people as their own, but she isn't interested in Fae power struggles. She moved out of Faerie years ago, and she's been scraping together a living as a bounty hunter. She just wants to catch her next mark so she can make rent.
But when she's chasing down her mark in a nightclub, assassins attack a minor Fae king. Petra saves his life, and in the process, she gets unwillingly yanked into Faerie politics. Her daring rescue of her changeling sister from King Periclase, who's vying to force Petra and the rest of her race under his rule, pushes inter-kingdom hostilities to a tipping point.
Tensions erupt into a threat of all-out war, and the only way to settle matters is for Petra to enter a battle of champions—a fight to the death.
Find out what fate awaits Petra and her people in BLOOD OF STONE, the new urban fantasy hit for fans of Ilona Andrews, Patricia Briggs, and Jim Butcher.
Book Details
File Nameblood-of-stone-by-jayne-faith.epub
Original TitleBlood of Stone: A Shattered Magic Novel (Stone Blood Book 1)
Creator

Jayne Faith

Languageen
IdentifierMOBI-ASIN:B0797Y7YKV
Publisher

Jayne Faith

Date2018-01-21T18:30:00+00:00
Subjecturban fantasy,fae,faerie
File Size292.532 KB
Table of Content
1. Table of Contents
2. Blood of Stone
3. Copyright
4. Book Description
5. An Important Note from the Author
6. Books by Jayne Faith
7. Chapter 1
8. Chapter 2
9. Chapter 3
10. Chapter 4
11. Chapter 5
12. Chapter 6
13. Chapter 7
14. Chapter 8
15. Chapter 9
16. Chapter 10
17. Chapter 11
18. Chapter 12
19. Chapter 13
20. Chapter 14
21. Chapter 15
22. Chapter 16
23. Chapter 17
24. Chapter 18
25. Chapter 19
26. Chapter 20
27. Chapter 21
28. Chapter 22
29. Chapter 23
30. Chapter 24
31. Chapter 25
32. Chapter 26
33. Chapter 27
34. Chapter 28