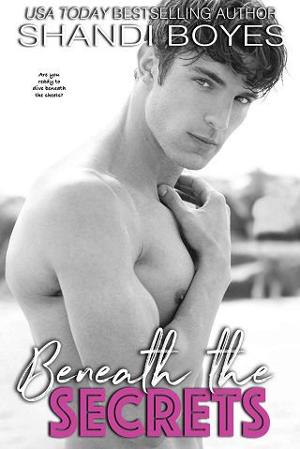 What happens when the only girl you've ever lusted comes crashing back into the picture?
Nothing.
Don't construe my lack of interest the wrong way. The last time I saw Ava, she was no doubt attractive. Although she's always been a little nerdy, and her head never left the inside of a book during her entire schooling experience, she could garner the attention of any hot-blooded male she feigned an interest in – myself included. Just one flash of her killer smile and I wanted to drop to my knees and kiss her f*cking feet. But a lot has changed since Ava left town six years ago with a flood of tears streaming down her face. Circumstances change. People change. I've changed. I'm no longer a teenage boy who can't control his cock around a beautiful girl. I am a grown man. A man that has done two tours in Afghanistan. A man that has no troubles controlling his cock. A man that can still remember the sweet taste of her lips.
What the f*ck? I'm screwed.
From the Author that brought you the 'Enigma' series comes the next installment. An emotional story about being reacquainted with your high school crush. Does time really alter your interests? Or is using your age just an excuse to downplay real love?
Let's find out – it's time to dive beneath the sheets!
Book Details
File Namebeneath-the-secrets-by-shandi-boyes.epub
Original TitleBeneath the Secrets (Enigma Book 5)
Creator

Shandi Boyes

Languageen
IdentifierMOBI-ASIN:B06XXL2W4N
Date2017-04-10T18:30:00+00:00
File Size413.054 KB
Table of Content
1. Title Page
2. Contents
3. Copyright
4. Dedication
5. Also by Shandi Boyes
6. Prologue
7. From the beginning
8. 1. Hugo
9. 2. Hugo
10. 3. Ava
11. 4. Hugo
12. 5. Ava
13. 6. Ava
14. 7. Ava
15. 8. Hugo
16. 9. Ava
17. 10. Ava
18. 11. Hugo
19. 12. Ava
20. 13. Hugo
21. 14. Hugo
22. 15. Ava
23. 16. Ava
24. 17. Hugo
25. 18. Ava
26. 19. Hugo
27. 20. Ava
28. 21. Ava
29. 22. Hugo
30. 23. Hugo
31. 24. Ava
32. 25. Ava
33. 26. Hugo
34. 27. Ava
35. 28. Hugo
36. 29. Ava
37. 30. Hugo
38. 31. Ava
39. The End
40. Also by Shandi Boyes