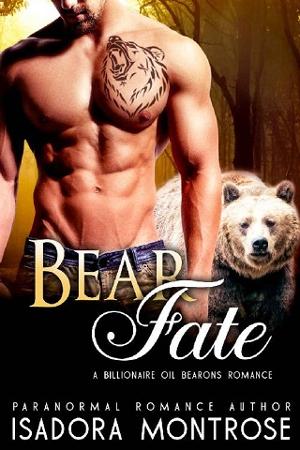 Two battered hearts. Two unmated bear shifters. Two military heroes. One wounded warrior. One billionaire. One BBW determined to wait for her Mr. Right. Two infatuated males. Too bad three's a crowd.
BBW Amber Dupré knows she wants a forever after love. She can choose between wealthy Billionaire Oil Bearon Calvin Bascom and veteran Lance Prescott. Should bear shifter Amber settle for a billionaire bear, or risk her heart on a mortal who is everything she needs in a mate but who may reject her for being a monster?
After surviving brutal wounds, Marine veteran Lance Prescott has carved a peaceful new life for himself in Colorado. He is content training horses at the Bascom stables, until BBW Amber Dupré arrives and stirs up passions he thought long dead.
Oil tycoon Calvin Bascom has spent his entire life stuffing his bear under his custom-made suits. Frequent visits to the waxing bar, and dates with supermodels, help to conceal his primitive inner beast. But voluptuous Amber Dupré gets him thinking about the charms of a cozy armful of curvy she-bear.
Marine veteran Lance Prescott's face took the brunt of the bomb that ended his career in Recon. Both he and Calvin want to cut Amber from the herd and put their brand on her. No one ever accused a Marine of lacking that can-do spirit or avoiding a battle. But what chance does a half-blind, scarred veteran with PTSD have of winning the heart of a luscious beauty who is being pursued by a big, brawny, billionaire reservist?
Feisty BBW Amber intends to make up her own mind. She knows a bear bond is an absolute necessity for a bear shifter. She won't settle for anything less. There's just one problem: her one true love is dead. How can she replace him and keep her self-respect? And which of the men vying for her charms is the right one?
This brave woman must decide if giving her heart to mortal Lance is worth the risk of being rejected as a monster. Maybe she'd be better off with a stinking rich bear and discovering if money can buy happiness?
Laugh a little, cry a little, as Amber, Lance and Calvin open their hearts to love and discover they didn't know themselves as well as they thought. And that true love always finds a way.
Book Details
File Namebear-fate-by-isadora-montrose.epub
Original TitleBear Fate: A Billionaire Oil Bearons Romance (Bear Fursuits Book 8)
Creator

Isadora Montrose

Languageen
IdentifierMOBI-ASIN:B077WQRBDM
Date2017-12-05T16:00:00+00:00
File Size312.399 KB
Table of Content
1. COPYRIGHT
2. BOOKS BY ISADORA MONTROSE
3. SEXY SNEAK PEEK
4. A NOTE TO THE READER
5. BEAR FATE
6. CHAPTER ONE
7. CHAPTER TWO
8. CHAPTER THREE
9. CHAPTER FOUR
10. CHAPTER FIVE
11. CHAPTER SIX
12. CHAPTER SEVEN
13. CHAPTER EIGHT
14. CHAPTER NINE
15. CHAPTER TEN
16. CHAPTER ELEVEN
17. CHAPTER TWELVE
18. CHAPTER THIRTEEN
19. CHAPTER FOURTEEN
20. CHAPTER FIFTEEN
21. CHAPTER SIXEEN
22. CHAPTER SEVENTEEN
23. CHAPTER EIGHTEEN
24. CHAPTER NINETEEN
25. CHAPTER TWENTY
26. CHAPTER TWENTY-ONE
27. CHAPTER TWENTY-TWO
28. CHAPTER TWENTY-THREE
29. CHAPTER TWENTY-FOUR
30. CHAPTER TWENTY-FIVE
31. CHAPTER TWENTY-SIX
32. CHAPTER TWENTY-SEVEN
33. CHAPTER TWENTY-EIGHT
34. CHAPTER TWENTY-NINE
35. CHAPTER THIRTY
36. CHAPTER THIRTY-ONE
37. CHAPTER THIRTY-TWO
38. CHAPTER THIRTY-THREE
39. CHAPTER THIRTY-FOUR
40. CHAPTER THIRTY-FIVE
41. CHAPTER THIRTY-SIX
42. CHAPTER THIRTY-SEVEN
43. CHAPTER THIRTY-EIGHT
44. CHAPTER THIRTY-NINE
45. CHAPTER FORTY
46. CHAPTER FORTY-ONE
47. CHAPTER FORTY-TWO
48. CHAPTER FORTY-THREE
49. CHAPTER FORTY-FOUR
50. CHAPTER FORTY-FIVE