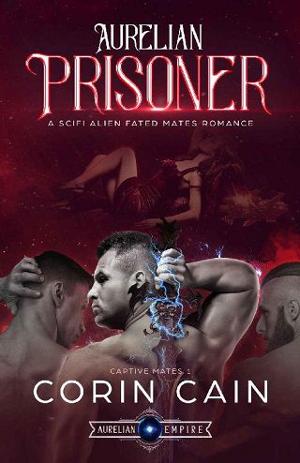 Captured by powerful Aurelians – and time's running out!
I took from the species. Now they want… me.
Aurelian agents. Powerful. Merciless. Utterly efficient. Break their laws, and the seven-foot-tall alien warriors will chase you to the end of the universe. After my sister was taken from me by space pirates, my freedom is the only thing I have left.
And now they want to take that from me.
But I've seen another side of the alien species…
Possessive. Dominant. Controlling.
And if I can make them succumb to the mating rage, they'll have no choice but to let me free..
Book Details
File Nameaurelian-prisoner-by-corin-cain.epub
Original TitleAurelian Prisoner: A Sci Fi Alien Fated Mates Romance (Captive Mates Book 1)
Creator

Corin Cain

Languageen
IdentifierMOBI-ASIN:B07VFY9P7S
Date2019-07-17T16:00:00+00:00
File Size390.808 KB
Table of Content
1. Title Page
2. Contents
3. Foreword
4. 1. Allie
5. 2. Daccia
6. 3. Allie
7. 4. Hadrian
8. 5. Kitos
9. 6. Allie
10. 7. Kitos
11. 8. Allie
12. 9. Hadrian
13. 10. Allie
14. 11. Hadrian
15. 12. Allie
16. 13. Daccia
17. 14. Allie
18. 15. Daccia
19. 16. Hadrian
20. 17. Allie
21. 18. Kitos
22. 19. Allie
23. 20. Daccia
24. 21. Allie
25. 22. Hadrian
26. 23. Allie
27. 24. Allie
28. 25. Daccia
29. 26. Allie
30. 27. Allie
31. 28. Allie