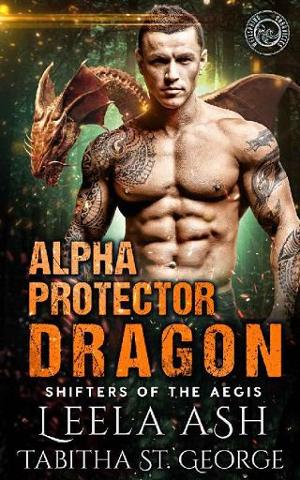 As this Dragon seeks to protect the alpha wolf's daughter, the danger level is rising…and so is the steam…
When a Wolf Alpha calls a Blood Debt due, Casey Briggs leaps at the chance to repay his Flight's obligation. The Dragon's mission? Guard the Alpha's daughter, Lily King, from the evil Fangs of Apophis. There's only one problem: Lily is a Wolf, too. And Wolves don't take well to being 'babysat'.
But as the savagery of the Fangs' attacks rises, even Lily comes to depend on her Dragon bodyguard. Together the two Shifters race to find the cause of these assaults before one of the Fangs vicious strikes breaks past Casey's unwavering vigilance.
Yet as he fights to protect her, an even greater danger arises: their own passion.
The moment they cross paths, an irresistible desire is born, an attraction that cannot be broken by the disapproval of their Pack and Flight. But passion is all that binds them. Oil and water, sophisticated Dragon and wild, carefree Wolf, the two lovers could not be more different. As destiny draws them near, their pride and stubbornness drive them apart.
Can mere desire blossom into true love? Or will their differences doom them?
Book Details
File Namealpha-protector-dragon-by-leela-ash.epub
Original TitleAlpha Protector Dragon (Shifters of the Aegis)
Creator

Leela Ash

Languageen
IdentifierMOBI-ASIN:B07PQJ6RQC
Date2019-03-12T00:00:00+00:00
File Size244.514 KB
Table of Content
1. Chapter 1.
2. Chapter 2.
3. Chapter 3.
4. Chapter 4.
5. Chapter 5.
6. Chapter 6.
7. Chapter 7.
8. Chapter 8.
9. Chapter 9.
10. Chapter 10.
11. Chapter 11.
12. Chapter 12.
13. Chapter 13.
14. Chapter 14.
15. Chapter 15.
16. Chapter 16.
17. Chapter 17.
18. Chapter 18.
19. Chapter 19.
20. Chapter 20.
21. Burning Falls Shifters Preview