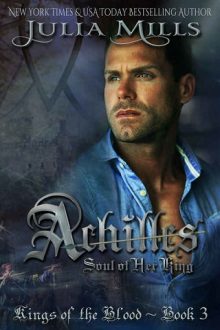 A scream in the night. A panicked call for help. There's no time to think. The rules be damned.
A fate worse than death. Buried alive…lost…alone… A centuries old secret her only hope. May the gods be on her side.
This one's about more than brotherhood.
Save the girl…save the Kings.
Book Details
File Nameachilles-soul-of-her-king-by-julia-mills.epub
Original TitleACHILLES: Soul of Her King (Kings of the Blood Book 3)
Creator

Julia Mills

Languageen
IdentifierMOBI-ASIN:B01M14BCN3
Publisher

UNKNOWN

Date2016-11-15T00:00:00+00:00
File Size174.632 KB
Table of Content
1. TABLE OF CONTENTS
2. PROLOGUE
3. CHAPTER ONE
4. CHAPTER TWO
5. CHAPTER THREE
6. CHAPTER FOUR
7. CHAPTER FIVE
8. CHAPTER SIX
9. CHAPTER SEVEN
10. CHAPTER EIGHT
11. CHAPTER NINE
12. CHAPTER TEN
13. CHAPTER ELEVEN
14. CHAPTER TWELVE
15. EPILOGUE
16. VIKTOR – HEART OF HER KING
17. HER MAD DRAGON
18. HEIDI – A NOT QUITE HELLHOUND LOVE STORY
19. ABOUT JULIA