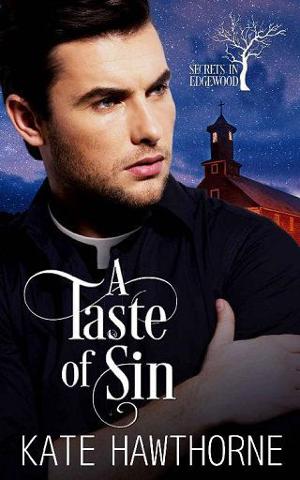 Reed Matthews lives a quiet and structured life in Edgewood. A devout Catholic going on his sixth year as principal at Our Lady of the Mount School, Reed thrives on routine. But one unplanned excursion for Chinese takeout is enough to send his meticulously-constructed world into a tailspin.
After growing up in foster care, Dominic O'Halloran decided to enter seminary in his early twenties, and he's dedicated his adult life to creating space for the LGBT community within the church. Weeks after answering the call from St. Paul's Episcopal Church and moving to Edgewood, Dominic finds himself face-to-face with the one person he's never been able to leave in the past–his childhood best friend.
Dominic and Reed find themselves entangled in decades old unresolved feelings and a new and very urgent emotions. Reed is terrified of damning his soul, and Dominic is worried about losing his heart. But all it takes is one make-believe kiss for them to realize they'd throw everything away for another taste of sin.
Book Details
File Namea-taste-of-sin-by-kate-hawthorne.epub
Original TitleA Taste of Sin
Creator

Kate Hawthorne

Languageen
IdentifierMOBI-ASIN:B07P76436H
Date2019-03-06T16:00:00+00:00
File Size308.256 KB
Table of Content
1. Full Page Image
2. Copyright
3. Contents
4. Dedication
5. 1. Reed
6. 2. Dominic
7. 3. Reed
8. 4. Dominic
9. 5. Reed
10. 6. Dominic
11. 7. Reed
12. 8. Dominic
13. 9. Reed
14. 10. Dominic
15. 11. Reed
16. 12. Dominic
17. 13. Reed
18. 14. Dominic
19. 15. Reed
20. 16. Dominic
21. 17. Reed
22. 18. Dominic
23. 19. Reed
24. 20. Dominic
25. 21. Reed
26. 22. Dominic
27. 23. Reed
28. 24. Dominic
29. 25. Reed
30. 26. Dominic
31. 27. Reed
32. 28. Dominic
33. 29. Reed
34. 30. Dominic
35. 31. Reed
36. 32. Dominic
37. 33. Reed
38. Also by Kate Hawthorne
39. About the Author