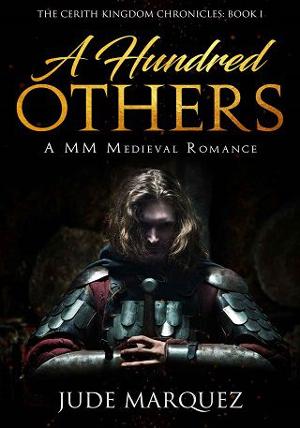 An approaching enemy… An uncrowned Prince… A commoner with a destiny he could not realize…
Alyx Reimund is a servant in the home that used to be his father's. Beaten, abused in ways he dare not recount, he longs for the day that he might feel a steady and kind hand. A chance encounter brings him face to face with the Crown Prince, a man so handsome and brave, surely he was made from Alyx's own dreams.
Crown Prince Evander De Loughrey heads one of the fiercest armies in all the lands. He wields his power with less violence than his father before him, wishing only for an end to all the wars he had been on, wishing for someone to wake in his bed with him, to love him as he is not for the power he will one day have.
When the two meet, it is as though fate had drawn them together. But will they be able to keep each other, and the royal family, safe? Will their kingdom survive an unknown enemy? Will they be able to know peace and harmony with each other.
Book Details
File Namea-hundred-others-by-jude-marquez.epub
Original TitleA Hundred Others: A MM Medieval Romance
Creator

Jude Marquez

Languageen
IdentifierMOBI-ASIN:B07KTJRHD9
Publisher

EmCee Publishing

Date2018-11-22T18:30:00+00:00
File Size213.196 KB
Table of Content
1. Chapter One
2. Chapter Two
3. Chapter Three
4. Chapter Four
5. Chapter Five
6. Chapter Six
7. Chapter Seven
8. Chapter Eight
9. Chapter Nine
10. Chapter Ten
11. Chapter Eleven
12. Chapter Twelve
13. Chapter Thirteen
14. Chapter Fourteen
15. Chapter Fifteen
16. Chapter Sixteen
17. Chapter Seventeen
18. Chapter Eighteen
19. Chapter Nineteen
20. Chapter Twenty
21. Chapter Twenty-One