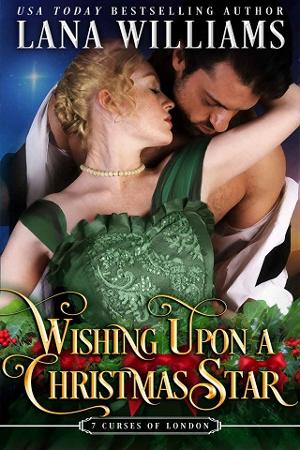 Wishing Upon a Christmas Star… Violet Fairchild longs to follow in her sisters' footsteps and make a difference with those less fortunate but fears she lacks the courage to take on the ills of London alone. When an elderly couple next door is in need of assistance, she jumps at the chance to fulfill their wish to recreate a Christmas from their past, for it answers a wish of her own.
Might bring more than you bargained for. Baxter Adley has spent the past few years rebuilding his family's fortune in India. He's weary of foreign shores but reluctant to return to England. Not with the sting of rejection from a lady still fresh, and not until he replaces the fortune his father lost. His trip home is quickened when he receives an alarming letter from his parents about a do-gooder he fears intends to steal the fortune he's rebuilt.
Violet is shocked by the angry, if handsome, son her neighbors rarely mention who refuses to believe his parents are in dire straits. His kisses weaken her knees even as he insists his parents don't need her help. She prepares to go to battle on their behalf only to realize more than a joyful Christmas is at stake. Violet is nothing like Baxter expected. She's beautiful, if opinionated, and before he knows it, he's agreed to help her give his parents a special holiday. Can a Christmas wish give this unlikely pair not only a memorable holiday but the start of a perfect future together?
Book Details
File Namewishing-upon-a-christmas-star-by-lana-williams.epub
Original TitleWishing Upon A Christmas Star (The Seven Curses of London Book 8)
Creator

Lana Williams

Languageen
Identifieruuid:e8fcf03c-f77d-4f93-abf5-c07ae9b97014
Publisher

Lana Williams

Date2018-11-06T00:00:00+00:00
File Size209.589 KB
Table of Content
1. Other Books in The Seven Curses of London Series
2. Chapter One
3. Chapter Two
4. Chapter Three
5. Chapter Four
6. Chapter Five
7. Chapter Six
8. Chapter Seven
9. Chapter Eight
10. Chapter Nine
11. Chapter Ten
12. Chapter Eleven
13. Chapter Twelve
14. Epilogue
15. Other Books By Lana
16. About The Author
17. Copyright