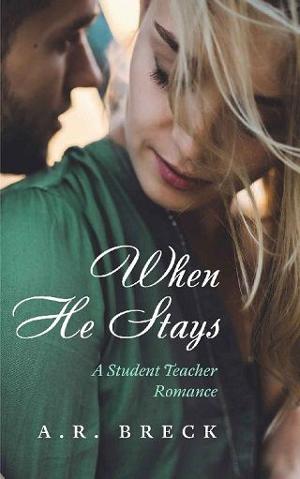 The day my Mom dies is the day my life falls apart.
I'm uprooted, sent to go live with an Aunt I barely know in a completely different state.
I feel lost, and broken.
Until he comes.
Alec.
Or better known as… Mr. Cooper.
My history teacher.
He makes me feel whole, complete.
For the first time, my life is perfect.
Until it's not.
Book Details
File Namewhen-he-stays-by-a-r-breck.epub
Original TitleWhen He Stays: A Student Teacher Romance
Creator

A.R. Breck

Languageen
IdentifierMOBI-ASIN:B07QW4GDK5
Date2019-05-13T16:00:00+00:00
File Size256.088 KB
Table of Content
1. ONE
2. TWO
3. THREE
4. FOUR
5. FIVE
6. SIX
7. SEVEN
8. EIGHT
9. NINE
10. TEN
11. ELEVEN
12. TWELVE
13. THIRTEEN
14. FOURTEEN
15. FIFTEEN
16. SIXTEEN
17. SEVENTEEN
18. EIGHTEEN
19. NINETEEN
20. TWENTY
21. TWENTY-ONE
22. TWENTY-TWO
23. TWENTY-THREE
24. TWENTY-FOUR
25. TWENTY-FIVE
26. TWENTY-SIX
27. TWENTY-SEVEN
28. EPILOGUE