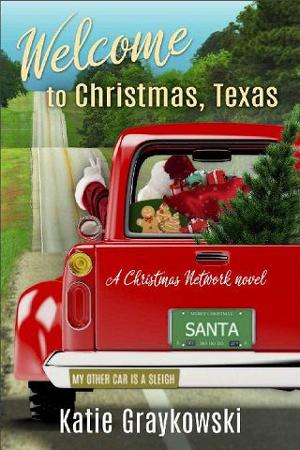 Christmas, Texas has as much magic as it has charm and only reveals itself to those who need it. The town was settled 1820 by the original Winter Texan, Santa Claus. He kissed the snowy North Pole goodbye and moved his whole operation to the sunny Texas Hill Country where there are never blizzard warnings and the only thing icy is his iced tea.
When Lana Green crashes her car into the Welcome-to-Christmas-Texas-you're-not-lost-you're-exactly-where-you're-supposed-to-be, sign she doesn't necessarily agree with the town slogan. She was on her way to Fredericksburg for a business meeting when she got lost in a thunderstorm. Since she has no intention of sleeping in her car during a thunderstorm and she has zero cell reception, she pulls her suitcase out of the trunk and marches toward town. When it comes to hating Christmas, she could give Ebenezer Scrooge a run for his money so visiting Christmas, Texas the week before Christmas is bound to be a lesson in torture.
Sheriff Nick Van De Berg is out on patrol when he runs across a Lexus wrapped around the Welcome sign. But the car's empty. Surely the driver didn't walk to town through the thunderstorm. As the storm gathers in intensity, so does his fear that something bad has happened to the driver. After checking the fast-swelling river, lower water crossings, and every single road in town, he stops by the Christmas Tree Inn where he finds Lana Green, his college sweetheart and the one that got away, sipping a mug of hot chocolate.
His Christmas wish every year since they broke up has been a second chance with Lana.
Now his wish has finally come true.
Can he convince Lana to take a chance on him and on Christmas, Texas?
Book Details
File Namewelcome-to-christmas-texas-by-katie-graykowski.epub
Original TitleWelcome to Christmas, Texas: A Christmas Network Novel
Creator

Katie Graykowski

Languageen
IdentifierMOBI-ASIN:B07HZ43PWP
Date2018-12-02T16:00:00+00:00
SubjectChristmas,holiday,Romance,contemporary romance,Santa Clause,magic,Christmas Spirit
File Size325.526 KB
Table of Content
1. Book Description
2. Table of Contents
3. Other Books By Katie Graykowski
4. Welcome to Christmas, Texas
5. Copyright
6. Dedication
7. Chapter 1
8. Chapter 2
9. Chapter 3
10. Chapter 4
11. Chapter 5
12. Chapter 6
13. Chapter 7
14. Chapter 8
15. Chapter 9
16. Chapter 10
17. Chapter 11
18. Chapter 12
19. Chapter 13
20. Chapter 14
21. Chapter 15
22. Epilogue
23. Other Books By Katie Graykowski
24. About the Author