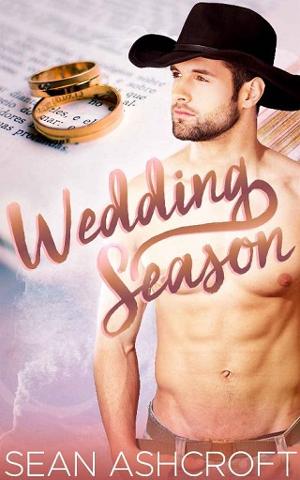 "On a scale of one to ten, how indecent would it be if I invited you back to my hotel room tonight?"
Seth can't afford to fall in love. As the heir to his family's fortune, his future is already pre-arranged: a partner will be picked for him based on what's best for the family business. When he meets Oz at his sister's wedding, he thinks the other man—his new brother-in-law—might just be fun for the night.
But then one wedding turns into two, and two turns into three, and before Seth knows it, he's falling in love with a man he can't have, one social event at a time.
Oz is tired of having his heart broken. He's been so focused on finding someone to settle down and be happy with that he's thrown himself into one bad relationship after another, looking for a partner he's no longer sure he can find. Seth proves to be a great distraction, a casual fling Oz doesn't have to take seriously… until he realises he's falling in love with a man he knows he can't have.
With Seth's father putting pressure on him to marry someone else, he's faced with an impossible choice: lose Oz forever, or leave the security of his family behind and make his own way in the world.
Can Seth take a leap of faith into Oz's arms? Or will he choose safety and security over the man he loves?
Book Details
File Namewedding-season-by-sean-ashcroft.epub
Original TitleWedding Season
Creator

Sean Ashcroft

Languageen
IdentifierMOBI-ASIN:B072TVY7BN
Date2017-06-17T18:30:00+00:00
File Size183.144 KB
Table of Content
1. Chapter One
2. Chapter Two
3. Chapter Three
4. Chapter Four
5. Chapter Five
6. Chapter Six
7. Chapter Seven
8. Chapter Eight
9. Chapter Nine
10. Chapter Ten
11. Chapter Eleven
12. Chapter Twelve
13. Chapter Thirteen
14. Chapter Fourteen
15. Chapter Fifteen
16. Chapter Sixteen
17. Chapter Seventeen
18. Chapter Eighteen
19. Chapter Nineteen
20. Chapter Twenty
21. Chapter Twenty-One
22. Chapter Twenty-Two
23. Chapter Twenty-Three
24. Chapter Twenty-Four
25. Chapter Twenty-Five
26. Chapter Twenty-Six
27. Chapter Twenty-Seven
28. Chapter Twenty-Eight
29. Chapter Twenty-Nine
30. Epilogue