Wanting him back by Mary Norton
no ratings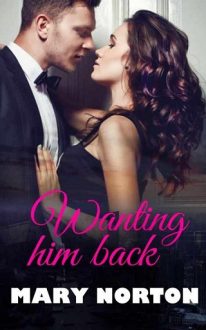 It was a quiet monotonous life, stupid, bland and without any expectation. But I had to ruin things in a good way, well … The way that only I can do.
Other than what you think, I'm not dumb, retarded or anything. Sure they sometimes need to explain me some things more than once, but that's because I'm looking at nothing and thinking about the meaning of life. But this happens only about three times a day. Piscean things.
Other than that, they sometimes call me an Einstein. This is always the CEO of the company.
But why am I cursing and degrading my person?
Because I am the nerdy, passionate and innocent girl who allowed herself to be seduced by the WONDERFUL SPECIES OF MAN.
And she's completely lost.
It could get worse. Believe me!
File Name:wanting-him-back-by-mary-norton.epub
Original Title:Wanting him back
Creator:

Mary Norton

Language:en
Identifier:MOBI-ASIN:B06WWGDJJB
Date:2017-02-22T05:00:00+00:00
File Size:308.671 KB