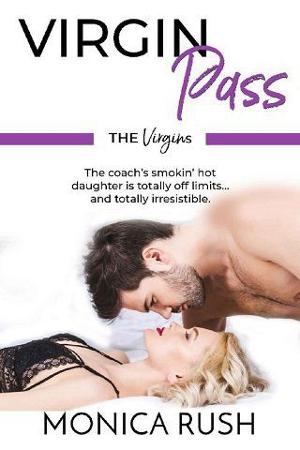 The coach's smokin' hot daughter is totally off limits…
Even as a kid, Lori Connor was my #1 fan—I don't think anyone ever loved me so much. Back then, keeping away from her was easy. Now I'm home to quarterback my last year with the team that got me started, and Lori's right there, waiting for me. Worse, she's all grown-up—and so on fire she's got me ready to take a knee.
And totally irresistible.
It looks like this time, the quarterback will be the one doing the sacking. Because nothing will stop me from making Lori my final play before I hang up my cleats for good—not even the coach threatening to take me out of the game.
Lori Connor is mine, and I'll risk it all to prove it.
Book Details
File Namevirgin-pass-by-monica-rush.epub
Original TitleVirgin Pass (The Virgins Book 3)
Creator

Monica Rush

Languageen
IdentifierMOBI-ASIN:B07M7G2YQ9
Publisher

Monica Rush Books, LLC

Date2019-02-08T16:00:00+00:00
File Size224.561 KB
Table of Content
1. Title Page
2. Contents
3. Virgin Pass
4. Copyright
5. Prologue
6. Chapter 1
7. Chapter 2
8. Chapter 3
9. Chapter 4
10. Chapter 5
11. Chapter 6
12. Chapter 7
13. Chapter 8
14. Chapter 9
15. Chapter 10
16. Chapter 11
17. Chapter 12
18. Epilogue
19. Virgin Valentine
20. Book 4 in the Virgin Series
21. Join the Rush!