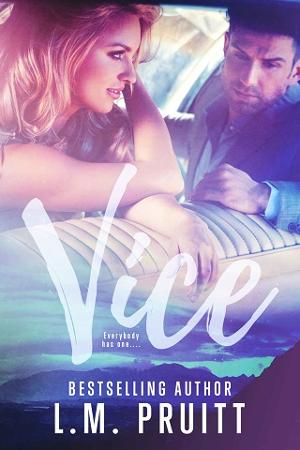 Everybody is addicted to something….
There are three things Jeannie Jackson knows for certain:
1. Relationships are more trouble than their worth.
2. There's no such thing as too much of a good thing.
3. She's never going back to Cotton Creek.
When tragedy strikes, pulling her back to her hometown and right in to the arms –and bar–of the last man she ever expected to see again, Jeannie starts to wonder what else she's been wrong about and whether love, like every other vice, is too addictive to walk away from….
Book Details
File Namevice-by-l-m-pruitt.epub
Original TitleVice
Creator

L.M. Pruitt

Languageen
IdentifierMOBI-ASIN:B076WNKDT6
Publisher

SP Press

Date2017-12-19T18:30:00+00:00
SubjectContemporary Romance,Romance,Angst,second chance,edgy,small town
File Size361.779 KB
Table of Content
1. PROLOGUE
2. CHAPTER ONE
3. CHAPTER TWO
4. CHAPTER THREE
5. CHAPTER FOUR
6. CHAPTER FIVE
7. CHAPTER SIX
8. CHAPTER SEVEN
9. CHAPTER EIGHT
10. CHAPTER NINE
11. CHAPTER TEN
12. CHAPTER ELEVEN
13. CHAPTER TWELVE
14. CHAPTER THIRTEEN
15. CHAPTER FOURTEEN
16. CHAPTER FIFTEEN
17. CHAPTER SIXTEEN
18. CHAPTER SEVENTEEN
19. CHAPTER EIGHTEEN
20. CHAPTER NINETEEN
21. CHAPTER TWENTY
22. CHAPTER TWENTY ONE
23. CHAPTER TWENTY TWO
24. CHAPTER TWENTY THREE
25. CHAPTER TWENTY THREE
26. CHAPTER TWENTY FOUR
27. CHAPTER TWENTY FIVE
28. CHAPTER TWENTY SIX
29. CHAPTER TWENTY SEVEN
30. CHAPTER TWENTY EIGHT
31. CHAPTER TWENTY NINE