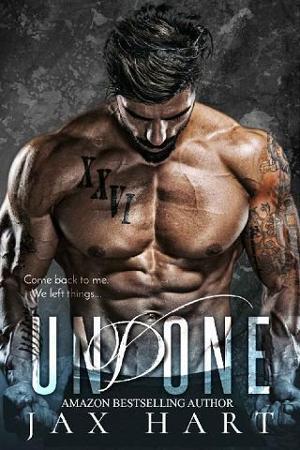 SMITH
I had to leave her behind. Forget I ever laid eyes on her beautiful face.I did it to protect her… to shield her from the ugly side of the life I'm in.The life I chose.We left things UNDONE.UNFINISHED.My love might break her, but it's what I crave– what I need… absolute submission she'll accept me as her king. Because I've already decided, I'll take her to be my QUEEN and when I do–nothing will be UNDONE between us… we'll be UNBREAKABLE. But first, I need to win her back make her understand she was always in my heart, even when the only choice I had was to walk away.
LUCE…
My heart beats only for him. I waited but he never came. My heart turned to ice and now I'm determined no one will crack it again. But a dangerous man more ruthless than the first pursues me. They both want me.Desire me.I'm lost in the woods but only one of them can take me home.
Book Details
File Nameundone-by-jax-hart.epub
Original TitleUNDONE: A NEW CONTEMPORARY SECOND CHANCE MC ROMANCE (CREED Book 3)
Creator

Jax Hart

Languageen
IdentifierMOBI-ASIN:B07P75QWX3
Date2019-03-24T16:00:00+00:00
File Size844.508 KB
Table of Content
1. GLOSSARY
2. ACKNOWLEDGMENTS & DEDICATION
3. PART ONE
4. PROLOGUE
5. CHAPTER ONE
6. CHAPTER TWO
7. CHAPTER THREE
8. CHAPTER FOUR
9. CHAPTER FIVE
10. CHAPTER SIX
11. CHAPTER SEVEN
12. CHAPTER EIGHT
13. CHAPTER NINE
14. CHAPTER TEN
15. PART TWO
16. CHAPTER ELEVEN
17. CHAPTER TWELVE
18. CHAPTER THIRTEEN
19. CHAPTER FOURTEEN
20. CHAPTER FIFTEEN
21. PART THREE
22. CHAPTER SIXTEEN
23. CHAPTER SEVENTEEN
24. CHAPTER EIGHTEEN
25. CHAPTER NINETEEN
26. CHAPTER TWENTY
27. CHAPTER TWENTY-ONE
28. EPILOGUE
29. DOWNLOAD.