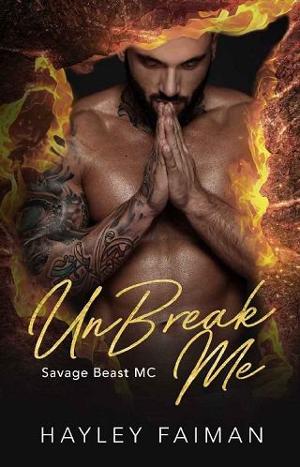 Esther has only craved to be loved by one man, the Wolfe who hides behind his broken ice blue eyes.
Unfortunately, the wild man she craves has desires that she doesn't feel able to fill. These desires will destroy her if she allows them.
Wolfe, the road captain for the Savage Beast MC, is known for his ruthlessness. The forty-year-old has demons that haunt the beast inside of him.
He cannot be the man who deserves to love her. He knows it's wrong. He knows it will break her, but he cannot help himself. She wants a wild man. He is as wild as they come.
Two souls searching for a way to find acceptance, love, and healing in physical pleasures. Both lost. One the devil. One a fallen angel. When they finally give in to their lust, their love blossoms like neither imagined possible.
Book Details
File Nameunbreak-me-by-hayley-faiman.epub
Original TitleUnBreak Me (Savage Beast MC Book 2)
Creator

Hayley Faiman

Languageen
IdentifierMOBI-ASIN:B07NNWKJN6
Date2019-03-13T16:00:00+00:00
File Size356.975 KB
Table of Content
1. Title Page
2. Copyright
3. Contents
4. Also By Hayley Faiman
5. Stay Connected
6. Prologue
7. Chapter 1
8. Chapter 2
9. Chapter 3
10. Chapter 4
11. Chapter 5
12. Chapter 6
13. Chapter 7
14. Chapter 8
15. Chapter 9
16. Chapter 10
17. Chapter 11
18. Chapter 12
19. Chapter 13
20. Chapter 14
21. Chapter 15
22. Chapter 16
23. Chapter 17
24. Chapter 18
25. Chapter 19
26. Chapter 20
27. Chapter 21
28. Chapter 22
29. Chapter 23
30. Chapter 24
31. Chapter 25
32. Chapter 26
33. Chapter 27
34. Chapter 28
35. Chapter 29
36. Chapter 30
37. Chapter 31
38. Chapter 32
39. Chapter 33
40. Epilogue
41. UNLOVE ME
42. PROLOGUE
43. CHAPTER ONE
44. CHAPTER TWO
45. CHAPTER THREE
46. CHAPTER FOUR
47. EPILOGUE
48. About the Author
49. Special Thanks