To Con A Cowboy by Maggie Carpenter
no ratings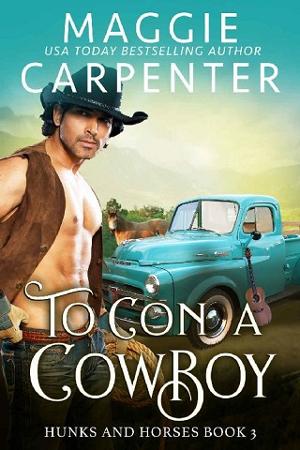 To get out of the mess she's in, she needs to con a country music superstar.
Heart thumping and overjoyed, wannabe author Amber Scott cannot believe her luck. Not only has she been hired by country's favorite singer to help write his memoirs, she'll be living at the famous cowboy's sprawling canyon compound.
A sudden inspiration hits. She is drowning in student loan debt, and though not duplicitous by nature, she sees a way to exploit her new situation.
Brett Preston carries a deep appreciation for the old ways of the Native Americans, but a take-charge man, he leaves nothing to chance. Hiring the beautiful, blue-eyed blonde is no accident, but contrary to his need to control his destiny, bringing her into is life is a roll of the dice–one that is making his pulse race.
A hot chemistry fires between them, and Amber learns Brett is an old-fashioned guy. When she tests his mettle he has no problem putting her in her place, and if necessary, over his knee.
Deeply drawn to the muscled cowboy, she tells her co-conspirators she won't go through with the scheme, but she quickly learns just how evil they are.
She is suddenly trapped.
If she confesses, she'll lose him. If she doesn't, he could lose everything.
File Name:to-con-a-cowboy-by-maggie-carpenter.epub
Original Title:To Con A Cowboy (Hunks and Horses Book 3)
Creator:

Maggie Carpenter

Language:en
Identifier:MOBI-ASIN:B07HCLTHX6
Date:2018-10-09T16:00:00+00:00
Subject:Western Romance,suspense,horses,cowboys
File Size:386.984 KB
Table of Content
1. Contents
2. Title Information
3. Prologue
4. Chapter One
5. Chapter Two
6. Chapter Three
7. Chapter Four
8. Chapter Five
9. Chapter Six
10. Chapter Seven
11. Chapter Eight
12. Chapter Nine
13. Chapter Ten
14. Chapter Eleven
15. Chapter Twelve
16. Chapter Thirteen
17. Chapter Fourteen
18. Chapter Fifteen
19. Chapter Sixteen
20. Chapter Seventeen
21. Chapter Eighteen
22. Chapter Nineteen
23. Chapter Twenty
24. Chapter Twenty-One
25. Chapter Twenty-Two
26. Chapter Twenty-Three
27. Epilogue
28. A Word From Maggie