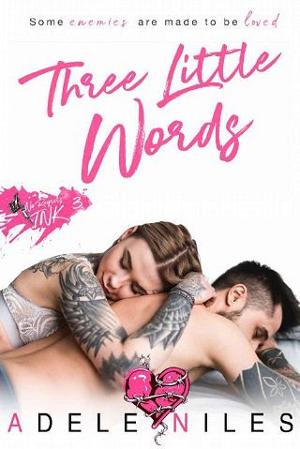 Some enemies are made to be loved.
He was my friend, my mentor, my lover.
Benny may have been my first love.
Tall, tattooed, dark. Sexy as hell.
I fell for him and broke all of my rules.
Those three little words destroyed us.
So I did what any girl would do. I left.
Now, my ex-lover is my enemy and the only one that can save me.
But I want more than just his help,
I want every single inch of his tall, tattooed thick body to make me feel safe again.
I hate you. I Love you.
Three little words that can change everything.
Book Details
File Namethree-little-words-by-adele-niles.epub
Original TitleThree Little Words: A Tattooed Bad Boy Romance (No Regrets Ink Book 3)
Creator

Adele Niles

Languageen
IdentifierMOBI-ASIN:B07THWKPJS
Publisher

Adele Niles

Date2019-07-09T16:00:00+00:00
SubjectA Romance
File Size216.973 KB
Table of Content
1. Three Little Words
2. Copyright
3. Table of Contents
4. About This Book
5. No Regrets
6. The Free No Regrets Ink Prequel Download Free Now
7. Come Join My Private Facebook Group
8. Click Here to Join Adele's Hot Hideaway
9. Stalk me...
10. Chapter One
11. Chapter Two
12. Chapter Three
13. Chapter Four
14. Chapter Five
15. Chapter Six
16. Chapter Seven
17. Chapter Eight
18. Chapter Nine
19. Chapter Ten
20. Chapter Eleven
21. Chapter Twelve
22. Chapter Thirteen
23. Chapter Fourteen
24. Chapter Fifteen
25. Chapter Sixteen
26. Chapter Seventeen
27. Chapter Eighteen
28. Chapter Nineteen
29. Chapter Twenty
30. Wrecked
31. One
32. Also by Adele Niles
33. Stalk me...