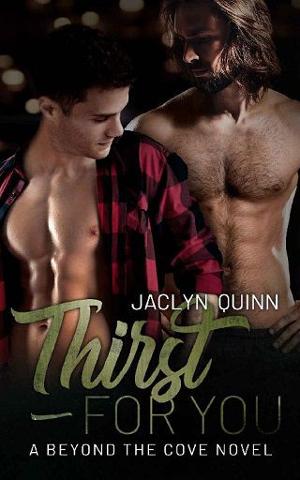 What happens when thirst becomes an obsession that can't be quenched?
Forty-year-old Zachariah Taylor prides himself on being the overprotective older brother of seven. He owns a successful bar, Zach's Bar and Grill, in the quiet town of Riverside Falls and loves the life he's built for himself. But as his siblings move on and find their forever partners in life, he's starting to feel less and less needed—not to mention old. Suddenly, he's finding it even harder to ignore the younger man who has pursued him for years, but the twelve years separating them is something Zach can't seem to overlook.
Twenty-eight-year-old Drew Belford has been in love with the stubborn Zach Taylor for seven years. Sure, he was a kid when they'd first met, but what Zach is determined to ignore is the man Drew has become. Drew, however, is just as strong-minded and refuses to let Zach use their age difference as an excuse to disregard the attraction burning between them. He doesn't need an overprotective older brother—he needs Zach.
When Drew begins to get unsettling messages from an unknown person, Zach feels helpless in a way he's never felt before. How can he protect Drew from someone he can't find? The thought of anyone hurting Drew unleashes years' worth of pent-up desire Zach has had for the younger man. Is his thirst for Drew enough to protect him from the danger lurking in the shadows, or will the threat of the unknown be enough to douse the spark of love between them—and silence Drew forever?
Book Details
File Namethirst-for-you-by-jaclyn-quinn.epub
Original TitleThirst for You (A Beyond the Cove Novel Book 2)
Creator

Jaclyn Quinn

Languageen
IdentifierMOBI-ASIN:B07QJY84XQ
Date2019-04-07T16:00:00+00:00
File Size447.766 KB
Table of Content
1. Title Page
2. Contents
3. Copyright
4. Trademarks
5. Warnings
6. Dedication
7. Chapter 1
8. Chapter 2
9. Chapter 3
10. Chapter 4
11. Chapter 5
12. Chapter 6
13. Chapter 7
14. Chapter 8
15. Chapter 9
16. Chapter 10
17. Chapter 11
18. Chapter 12
19. Chapter 13
20. Chapter 14
21. Chapter 15
22. Chapter 16
23. Chapter 17
24. Chapter 18
25. Chapter 19
26. Chapter 20
27. Chapter 21
28. Chapter 22
29. Epilogue
30. Other Books by Jaclyn Quinn:
31. Author's Note
32. Acknowledgments
33. About the Author
34. Readers May Also Like…