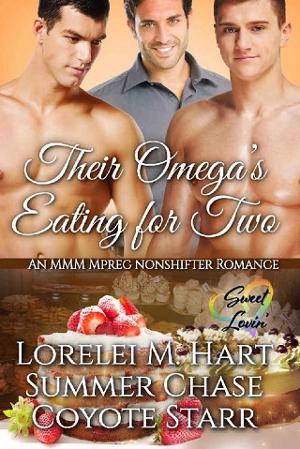 When Aiden goes to work for two alphas in their bakery, he learns eating for two is no piece of cake!
Omega grad student Aiden was so close to his degree he could almost taste it—until his roommate moved out. Short on funds and even shorter on time, he takes a job at the local bakery known for their designer cakes.
Alphas Sean and Ed have a great life. Their bakery is nationally known for inspiring designs and locally adored for yummy goodness. They love each other completely. But both sense something is missing…
When Aiden walks into their storefront, everything changes. He is smart, smexy, and not at all what the bakery needs. So of course, they hire him on the spot.
Only later do they admit to themselves, and each other, that they're both drawn to Aiden in a way they haven't felt since they met.
Sparks fly, and pretty soon, Aiden is eating for two!
Book Details
File Nametheir-omegas-eating-for-two-by-lorelei-m-hart.epub
Original TitleTheir Omega's Eating for Two: A Non-Shifter MMM Mpreg Romance (Sweet Lovin' Book 2)
Creator

Lorelei M. Hart

Languageen
IdentifierMOBI-ASIN:B07G9X8HNQ
Publisher

BGE Publishing

Date2018-11-06T16:00:00+00:00
File Size314.145 KB
Table of Content
1. Title Page
2. Their Omega's Eating for Two | Sweet Lovin' Book Two | Lorelei M. Hart, Coyote Starr, and Summer Chase
3. Chapter 1
4. Chapter 2
5. Chapter 3
6. Chapter 4
7. Chapter 5
8. Chapter 6
9. Chapter 7
10. Chapter 8
11. Chapter 9
12. Chapter 10
13. Chapter 11
14. Chapter 12
15. Chapter 13
16. Chapter 14
17. Chapter 15
18. Chapter 16
19. Chapter 17
20. Chapter 18
21. Chapter 19
22. Chapter 20
23. Chapter 21
24. Epilogue
25. About the Authors
26. Excerpt