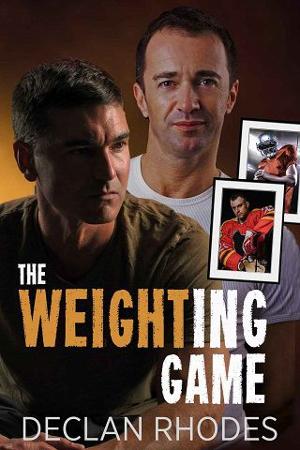 How do you save a life? For retired pro football player Gabe Finch, it involves a love for hockey jerseys, a battle to lose weight, and trash-talking his way into Logan Peterson's heart.
Logan was an ice hockey star. Selected as league most valuable player in four different seasons, he retired after fifteen years as an eventual shoo-in for the Hall of Fame. Then he took a break. It was his time to let down and enjoy life. He didn't know that the good times would catch up with him as a coach two years later when he found himself lying in a hospital bed after collapsing on the ice.
To all but those who knew him well, Gabe was the least likely of football quarterback heroes. He baited his teammates, bad-mouthed the media, and he was gay. However, with a football in his hand, Gabe achieved greatness. Three years after retirement, out of shape, overweight, and aimless, he didn't know where to turn for his next act in life. Then he met Logan.
Saving the life of the man he might love is finally reason enough for Gabe to commit to turning his own life around. The only hitch is Logan is divorced, has two daughters, and has never loved a man before.
The growing passion between them becomes too intense to ignore, and they both know they can't move forward without opening their hearts and letting them soar. A hush-hush weight loss counseling group for celebrities, current, and past, brought them together. Love, persistence, patience, and an iron will are all necessary to keep them there.
Book Details
File Namethe-weighting-game-by-declan-rhodes.epub
Original TitleThe Weighting Game
Creator

Rhodes, Declan

Languageen
Identifier3265244793
Date2018-12-03
File Size286.853 KB
Table of Content
1. Title Page
2. Copyright
3. Contents
4. 1. Logan
5. 2. Gabe
6. 3. Logan
7. 4. Gabe
8. 5. Logan
9. 6. Gabe
10. 7. Logan
11. 8. Gabe
12. 9. Logan
13. 10. Gabe
14. 11. Logan
15. 12. Gabe
16. 13. Logan
17. 14. Gabe
18. 15. Logan
19. 16. Gabe
20. 17. Logan
21. 18. Gabe
22. 19. Logan
23. 20. Gabe
24. 21. Logan
25. 22. Gabe
26. 23. Logan
27. 24. Gabe
28. 25. Logan
29. 26. Gabe
30. 27. Logan
31. 28. Gabe
32. 29. Logan
33. 30. Gabe
34. Epilogue - Gabe - Two Years Later
35. About the Author
36. Also by Declan Rhodes