The Terms: Part Two by Ruby Rowe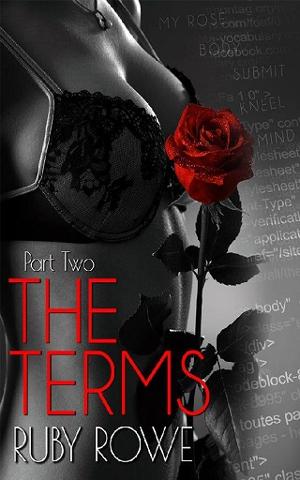 Camilla
I longed to believe my bond with Ellis was impenetrable, but in reality, I held secrets that could blow open the tightly woven seam of our newfound relationship. Would he understand how we were both victims in his brother's betrayal, or would he take his anger out on the one person still alive–me? Could the words my sister spoke about Liam's father be true? If so, how would Ellis and I recover from what was lost?
Christopher's jealousy was intensifying as a future with me became even less attainable. No, I belonged to one man only, and I was going to prove to Ellis that we could overcome the past and share an amazing future. I had two important roles in life: being a mother and a submissive, and I would fight to keep them both.
Sasha
Once I left rehab, the thought of living alone during my recovery scared me, but being told I had to move in with Ellis's attractive cousin instead of going back to my apartment was terrifying. My sister, Camilla, ran a tight ship, but she wasn't nearly as intimidating as Greyson and the terms he laid out for me.
The reality that I was borrowing space amongst his superior existence didn't need to be spoken. For that reason, I was blindsided when his gaze began to undress me and his touch became more than a brush of the shoulder. Greyson Burke saw something in me I was struggling to see in myself, and that meant he held the power … it also meant I had to run.
Book Details
File Namethe-terms-part-two-by-ruby-rowe.epub
Original TitleThe Terms 2
Creator

Ruby Rowe

Languageen
IdentifierMOBI-ASIN:B072C86D5F
Date2017-06-30T05:00:00+00:00
File Size330.647 KB
Table of Content
1. NOTES
2. DEDICATION
3. CHAPTER ONE
4. CHAPTER TWO
5. CHAPTER THREE
6. CHAPTER FOUR
7. CHAPTER FIVE
8. CHAPTER SIX
9. CHAPTER SEVEN
10. CHAPTER EIGHT
11. CHAPTER NINE
12. CHAPTER TEN
13. CHAPTER ELEVEN
14. CHAPTER TWELVE
15. CHAPTER THIRTEEN
16. CHAPTER FOURTEEN
17. CHAPTER FIFTEEN
18. CHAPTER SIXTEEN
19. CHAPTER SEVENTEEN
20. CHAPTER EIGHTEEN
21. CHAPTER NINETEEN
22. CHAPTER TWENTY
23. CHAPTER TWENTY-ONE
24. CHAPTER TWENTY-TWO
25. CHAPTER TWENTY-THREE
26. CHAPTER TWENTY-FOUR
27. CHAPTER TWENTY-FIVE
28. CHAPTER TWENTY-SIX
29. CHAPTER TWENTY-SEVEN
30. CHAPTER TWENTY-EIGHT
31. CHAPTER TWENTY-NINE
32. CHAPTER THIRTY
33. CHAPTER THIRTY-ONE
34. CHAPTER THIRTY-TWO
35. CHAPTER THIRTY-THREE
36. EPILOGUE
37. END NOTES
38. ACKNOWLEDGMENTS