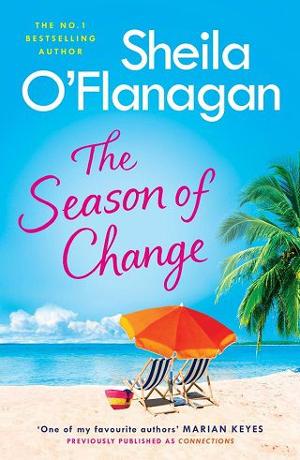 The Season of Change was previously published as Connections.
Where do you go to solve all your problems?
Where would you go if you were a singer fed up with the fame you never desired?
Where would you choose to get married if you didn't want a certain high-maintenance, nightmare guest in attendance?
Where would you go to pretend your marriage wasn't the sham you always thought it was?
And if you were a writer looking for a gripping new plot, where could you find it?
At the beautiful White Sands resort the Caribbean sunshine works its magic – just so long as its guests' troubles haven't followed them all the way to paradise…
Book Details
File Namethe-season-of-change-by-sheila-oflanagan.epub
Original TitleThe Season of Change
Creator

Sheila O'Flanagan

Languageen
IdentifierURN:ISBN/9781472261502:9781472261502
Publisher

HeadlinePublisher

Date2019-06-13
File Size545.813 KB
Table of Content
1. Cover
2. Title Page
3. Copyright Page
4. Contents
5. About the Author
6. Praise
7. Also by Sheila O'Flanagan
8. About the Book
9. Dedication
10. Author's Note
11. Room 404 Corinne
12. Room 217 Bree
13. Room 403 Esther
14. Room 105 Jennifer
15. Room 205 Gala
16. Room 608 Isobel
17. Room 311 Rudy
18. Room 316 Tara
19. Reception June
20. Room 522 Gráinne
21. Room 505 Dee
22. Coco Villa Sahndhi