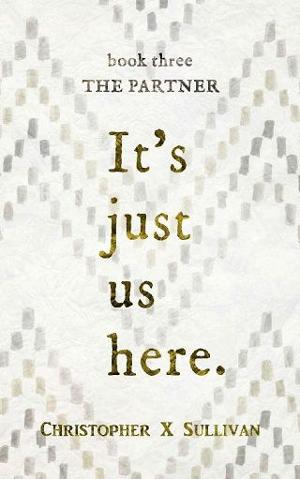 An asexual man falls in love with a male model… and they make it work.
Chris and Mark try to separate.
It doesn't go smoothly.
Why was it so easy to grow close, yet now so difficult to pull apart?
Maybe they can pretend one last time… can they pretend to be boyfriends for a week? Can that solve their problems?
Book Details
File Namethe-partner-by-christopher-x-sullivan.epub
Original TitleThe Partner (It's Just Us Here Book 3)
Creator

Christopher X Sullivan

Languageen
IdentifierMOBI-ASIN:B07N8TTT9P
Publisher

Jester Publishing

Date2019-03-11T16:00:00+00:00
SubjectTHIS IS THE FINAL COPY
File Size373.471 KB
Table of Content
1. Title Page
2. Copyright Page
3. Bad Poker Night
4. He's Gay
5. The Hickey
6. Salsa
7. Ryan Makes Trouble
8. The Executive Decision
9. First Night Together
10. A Blissful Morning
11. Partner
12. Slutty Monday Running
13. About the Author

The Next Book
Author's Thanks
Author's Biography
Patrons Supporting These Books!