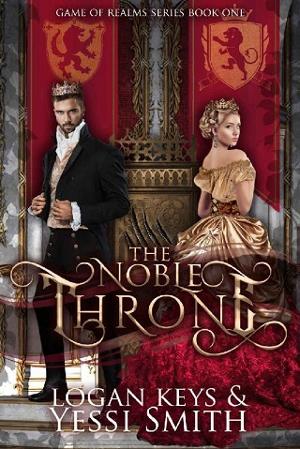 A prince and princess from opposing kingdoms find themselves in an arranged marriage after one near-fatal mistake. Liana was destined to rule all of the realms, that is, until she puts her throne in danger when she attacks a wolf and prince who's wandered out of winter and into her territory.
Noble isn't supposed to be king of winter yet, but fate has other plans. When he agrees to marry Liana he finds that trusting someone with your heart is twice as difficult as trusting them with your kingdom.
War has begun and it's not just in their bedchamber. Can these two royals join hearts to face treachery? Or will disaster befall those who live and die on the throne?
Book Details
File Namethe-noble-throne-by-logan-keys.epub
Original TitleThe Noble Throne: A Royal Shifter Fantasy Romance (Game of Realms Series Book 1)
Creator

Logan Keys

Languageen
IdentifierMOBI-ASIN:B077GTCLJC
Date2017-12-03T16:00:00+00:00
File Size258.847 KB
Table of Content
1. Prologue
2. Chapter 1
3. Chapter 2
4. Chapter 3
5. Chapter 4
6. Chapter 5
7. Chapter 6
8. Chapter 7
9. Chapter 8
10. Chapter 9
11. Chapter 10
12. Chapter 11
13. Chapter 12
14. Chapter 13
15. Chapter 14
16. Chapter 15
17. Chapter 16
18. Chapter 17
19. Chapter 18
20. Chapter 19
21. Chapter 20
22. Chapter 21
23. Chapter 22
24. Chapter 23
25. Chapter 24
26. Chapter 25
27. Chapter 26
28. Chapter 27
29. Chapter 28
30. Chapter 29
31. Chapter 30
32. Chapter 31