The Lord of Illusion by Kathryne Kennedy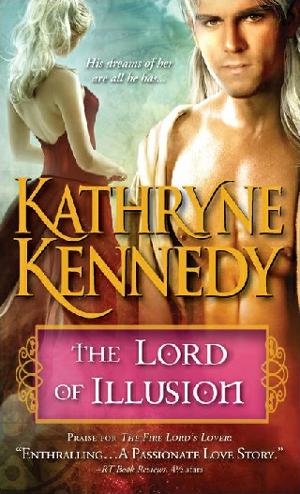 He'll do anything to save her…
Rebel Lord Drystan Hawkes dreams of fighting for England's freedom. He gets his chance when he finds a clue to opening the magic portal to Elfhame, and he must race to find the slave girl who holds the key to the mystery. But even as Drystan rescues Camille Ashton from Dreamhame Palace, it becomes unclear exactly who is saving whom.
For the fate of humankind lies with Camille…
Enslaved for years in a realm where illusion and glamour reign, Camille has learned to trust nothing and no one. But she's truly spellbound when she meets Drystan—a man different from any she's ever known, and the force of their passion may yet be strong enough to banish the Elven Lords from this world forever.
File Name:the-lord-of-illusion-by-kathryne-kennedy.epub
Original Title:The Lord of Illusion
Creator:

Kathryne Kennedy

Language:en-US
Identifier:9781402274220
Publisher:

Sourcebooks, Inc.

Date:2011-12-07
Subject:
File Size:974.624 KB
Table of Content
1. Front Cover
2. Title Page
3. Copyright
4. Contents
5. One
6. Two
7. Three
8. Four
9. Five
10. Six
11. Seven
12. Eight
13. Nine
14. Ten
15. Eleven
16. Twelve
17. Thirteen
18. Fourteen
19. Fifteen
20. Sixteen
21. Seventeen
22. An excerpt from The Fire Lord's Lover
23. An excerpt from The Lady of the Storm
24. About the Author
25. Back Cover