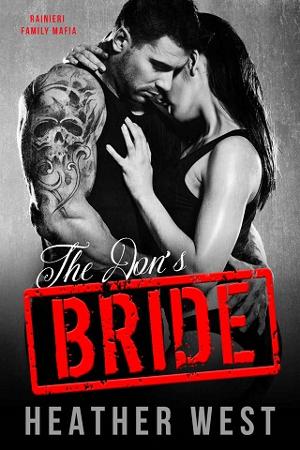 THE DON CLAIMED ME AND I DIDN'T DARE SAY NO.
The man who once protected me is dead now.
And the new Don has decided I belong to him.
He wants his hand on my hips, his name on my lips…
And his ring on my finger.
I never belonged in this world.
I'm a nice girl, not a mafia princess.
But my family needed me to work, and this was the best I could do.
I just wasn't ready for it to all blow up so soon.
With the old Don's sudden death, his son is now in charge.
Ryder is everything that terrifies me.
Arrogant. Violent.
But oh, God… so, so sexy.
He's got hands capable of breaking a girl like me.
And on his first day in charge of the family, he lets me know that that's exactly what he has in mind.
I don't have a choice in the matter.
I can't run – he'll find me.
I can't refuse – he'll break me.
I can only say, "Yes, sir."
But the scariest thing of all is this:
That's the only thing I want to say.
Because Ryder doesn't just want me to be his toy.
He doesn't just want a new plaything.
He wants someone he can break.
Mold.
And keep by his side forever.
The Don wants to make me his bride.
THE DON'S BRIDE is a full-length, standalone, bad boy heist romance. Includes additional bonus content so you can keep on reading 'til you've had your fill of hot sex, thrilling action, and HEAs that will melt your heart!
Book Details
File Namethe-dons-bride-by-heather-west.epub
Original TitleTHE DON'S BRIDE: Rainieri Family Mafia
Creator

Heather West

Languageen
IdentifierMOBI-ASIN:B077SM8B3V
Date2017-11-26T18:30:00+00:00
File Size2.102 MB
Table of Content
1. THE DON'S BRIDE: Rainieri Family Mafia
2. Chapter One
3. Chapter Two
4. Chapter Three
5. Chapter Four
6. Chapter Five
7. Chapter Six
8. Chapter Seven
9. Chapter Eight
10. Chapter Nine
11. Chapter Ten
12. Chapter Eleven
13. Chapter Twelve
14. Chapter Thirteen
15. Chapter Fourteen
16. Chapter Fifteen
17. Chapter Sixteen
18. Chapter Seventeen
19. Chapter Eighteen
20. Chapter Nineteen
21. Chapter Twenty
22. Chapter Twenty-One
23. Chapter Twenty-Two
24. Chapter Twenty-Three
25. Chapter Twenty-Four
26. Chapter Twenty-Five
27. Chapter Twenty-Six
28. Chapter Twenty-Seven
29. BEARING HIS BABY: The Brancati Family Mafia
30. Chapter One
31. Chapter Two
32. Chapter Three
33. Chapter Four
34. Chapter Five
35. Chapter Six
36. Chapter Seven
37. Chapter Eight
38. Chapter Nine
39. Chapter Ten
40. Chapter Eleven
41. Chapter Twelve
42. Chapter Thirteen
43. Chapter Fourteen
44. Chapter Fifteen
45. Chapter Sixteen
46. MARRIED TO THE DEVIL: Immortal Souls MC
47. Chapter 1
48. Chapter 2
49. Chapter 3
50. Chapter 4
51. Chapter 5
52. Chapter 6
53. Chapter 7
54. Chapter 8
55. Chapter 9
56. Chapter 10
57. Books from Heather West

BEARING HIS BABY: The Brancati Family Mafia
MARRIED TO THE DEVIL: Immortal Souls MC
DEVIN: A Hitman Romance (Moretti Mafia)
ARSEN: The Inked Hunters MC
DIRTY ANGEL: A Dark Bad Boy Romance (Midnight Riders MC)
DIRTY RIDE: A Dark Bad Boy Romance (The Punishers MC)
CRAVING HIM: Satan's Blazes MC
TEASING HIM: A Dark Bad Boy Romance (The Twisted Ghosts MC)
PLEASING HIM: A Dark Bad Boy Romance (The Silent Havoc MC)
Bound to Him: Violent Spawn MC
CRAVE: Raging Reapers MC
Lust: Satan's Riders MC
RAVISHED: Reaper's Thorns MC
CONSUMED: Hell Brothers MC
RUINED: Rogue Demons MC
MONSTER: Angel's Blood MC
INKED: Broken Spears MC
Sinful Vices
Leather and Liquor
Defiance: Silver Snakes MC
Diego
Thief: Devil's Own MC
Lucky
Crush

58. Heather West Mailing List